11 Dec

Welcome New Volunteers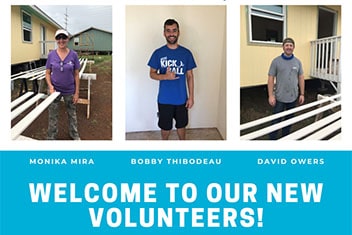 Here at Kaua'i Habitat we have been so fortunate to be able to continue building homes and hope by utilizing COVID-19 safety precautions. These precautions have enabled our constructions site as well as our ReStore to remain going strong, and have allowed us to welcome back resident volunteers in a limited capacity.
"We've had some wonderful folks come out over the past couple months," stated Volunteer Program Manager Chelsea Crapser, "Monika, Bobby, Jana and David are all first time volunteers with KHfH. They've been doing a great job on site and have all asked to be put on the schedule on a regular basis."
The love and dedication that come from our community volunteers is one of the things that make building with Kaua'i Habitat for Humanity so special. If you or someone you know would be interested in volunteering at either our ReStore or construction site, please email Chelsea at Chelsea@kauaihabitat.org.