25 Feb

Welcome Back Visiting Teams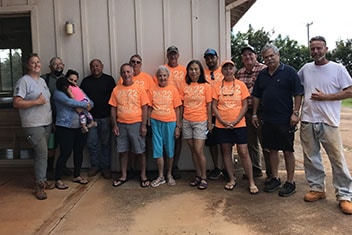 We were thrilled to welcome back our first Travel & Build team since the onset of the pandemic. The experienced group of seven, led by Jean Currie, met at the Kaua'i Habitat office for orientation on Tuesday, January 18, 2022. As traveling volunteers, all team members had met Kaua'i Habitat for Humanity safety protocols to ensure a safe and productive experience for team members and staff alike.
Team Leader Jean Currie has traveled to Kaua'i to build homes and hope with us many times. We are always excited to see her, and we were especially excited to see so many familiar faces on this team. Other team members include Pete Metzmaker, Jan Metzmaker, Mildred Fink, Randal Simin, Sinan Mayfield and Andrew Long.
Once orientation was complete, the team spent much of it's time working construction at our 'Ele'ele Iluna subdivision. Our homebuyers, staff, and AmeriCorps service members were thrilled with the additional hands as they worked on homes in the 'Ele'ele neighborhood. Volunteers on this team have experience building during various stages of the subdivision's development. It's fortunate that they were able to see how far the project has come, as 'Ele'ele Iluna nears completion.
Volunteer labor plays a major role in keeping cost down and we are so grateful for the support of these amazing people. We hope the experience was equally as enjoyable for the team members, and they return to help us build homes, communities and hope in the future. "We had a great time! Can't wait to come back." Randy Simin shared on Facebook. Which gives us hope that we will indeed see these folks again.
If you or someone you know are interested in participating in a team build, contact Nicole Pacanas at volunteer@kauaihabitat.org or call (808) 335-0296 ext. 1013.