18 Feb

Students Build With KHFH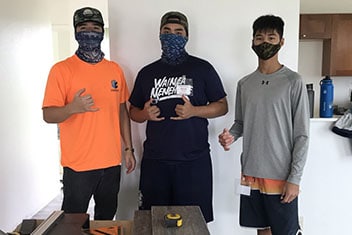 Students from Waimea High School spent time volunteering with Kaua'i Habitat for Humanity as part of their senior project this year. Each student in Shelby Erdmann's English Language Arts class is tasked with completing a culminating project in the second semester of their senior year. The experience is designed to encourage them to investigate a topic of their choosing based on experiences, skills and knowledge acquired throughout their high school careers.
This large project requires completing a minimum of 40 hours of volunteer work or internship/apprenticeship hours. Students are allowed to choose from a menu of options including community service, designing and implementing a leadership project, starting a small business/virtual enterprise, a research project, or internship/apprenticeship experiences. The students will then build portfolios based on their research and their experience and do a live presentation the week before graduation.
"It will always be an option for students to select community service work, like volunteering with Habitat, as a project," Waimea High School Teacher Shelby Erdmann shared with us. "We currently have students working with your organization, with Boys and Girls Club, Nana's House, and with Surfrider."
This project which covers English Language Arts standards in the areas of informational reading, research, writing, listening and speaking currently sits in the English Language Arts class, but in the future, the project will be a combined effort between the English Language Arts class and the High School's Career and Technical Education teachers and classes. A Culminating Project will be required of all future classes as part of the Senior year curriculum of the Waimea High School Academy model.