07 May

Much Needed Makeover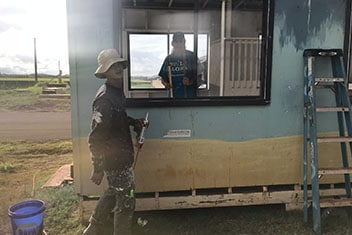 Let's face it, it's been a rough year for all of us! The wear and tear from such a crazy year not only took a toll on us, it also took a toll on the volunteer shed at our 'Ele'ele Iluna jobsite. The good news is, we have great people in our community that are always eager to lend a helping hand. On May 5th and 7th, 2021, these wonderful individuals did just that. They volunteered their time to giving the volunteer shed the makeover it desperately needed.
It's times like these that we are reminded of just how important volunteers are to the work we do. Of course construction volunteers and Habitat for Humanity go hand in hand, but you can also find dedicated volunteers doing many different jobs that all support the work we do building homes and hope on Kaua'i. Whether it be working in our ReStore, helping out at community events or advocating for affordable housing in our community, there are lots of ways to make a difference by volunteering.
Providing access to a safe, decent and affordable place to live benefits the entire community and all who live in it. If you would be interested in donating your time and talents to building homes, communities and hope on Kaua'i, contact our volunteer program at volunteer@kauaihabitat.org or call (808) 335-0296 ext. 1013.