08 Jun

Long-term Flood Recovery
SPECIAL UPDATE
Kauai Habitat for Humanity begins long-term flood recovery work around the island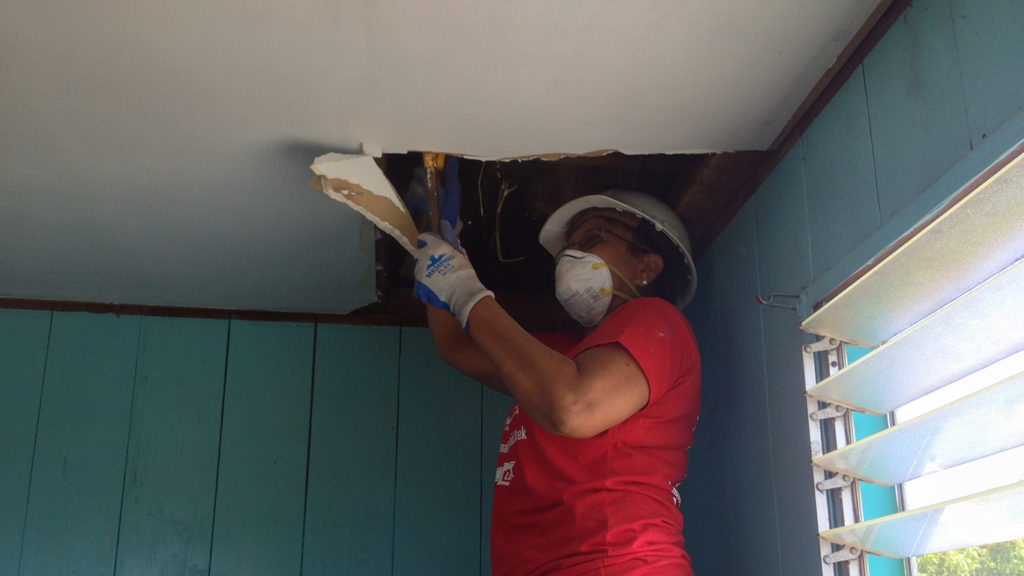 Aloha to our dear supporters,
Twenty five years ago community need and generous donations helped establish our affiliate here on Kauai in the aftermath of Hurricane Iniki. We mobilized then to further the island's long term recovery through construction of affordable homes for families in need.
Since then, we have built 147 new homes and repaired 29 substandard homes. This year, as you have seen in the news, our Garden Isle has been through unprecedented and record-breaking rainfall resulting in devastating flooding in various areas of the island including: Koloa on the southshore, Anahola and Keapana Valley on the east side, and the north shore areas of Hanalei, Wainiha, and Haena.
Kauai Habitat for Humanity is committed to be there for our community in this current time of need through Pathways to Permanence, Habitat's disaster recovery program. We are a long-term recovery organization and our goal in times of disaster is to continue our mission focus and build permanent, simple, decent homes. During the days and weeks immediately after the flood, we were able to provide immediate aid by making available goods that we had in supply at ReStore for affected households, volunteers, and first responders. The following week after the flood, our staff participated in community relief meetings to reach out to affected individuals and to help establish a place for Habitat in long-term recovery.
During the last two months, our community was grateful to have the help of relief agencies such as Samaritan's Purse, Team Rubicon and American Red Cross; our local churches, nonprofits such as food banks, Rotary Clubs, Lions Clubs, Hale Halawai, Malama Kauai; government agencies like County of Kauai, State of Hawaii, and National Guard, along with local businesses and countless individuals who came together to help others.
Now, with the exception of a few isolated areas, Kauai has transitioned from the initial relief phase and is entering the early recovery phase, characterized by addressing longer term needs, focusing on health, housing, and social services, furthering community stabilization. Long term recovery efforts focus on restoring or improving the pre-disaster conditions of the community. From experience, we are all too aware that recovery can be a months- to years-long process.
Thankfully, through the foresight of donors like the Chan Zuckerberg Initiative, Hawaiian Airlines, and other individuals who have contributed to Kauai Habitat for Humanity is able to now launch the long process of disaster recovery on our island.
The scope of our services could vary greatly and is dependent upon various scenarios such as available funding, what assistance people have received from other agencies, extent of the damage to the home. Our affiliate is able to provide services to owner occupants who are at or below 100% of the Kauai median income.Services can include: mold abatement, drywall repair, flooring replacement, plumbing and electrical work, appliance replacement, replacement of doors and trim, cabinet and/or countertop replacement, home/yard clean up, providing tools, providing building materials, exterior repair. Some resources can also be made available for renters, in a limited capacity, such as appliance replacement, or minor repairs with landlord approval.
If you or someone you know needs disaster recovery assistance, please have them contact us at (808) 335-0296 ext. 113, email us at disasterrecovery@kauaihabitat.org, or visit www.kauaihabitat.org to go to our Flood Recovery page and download an Intake Form.
Our first two repair jobs begin at the end of June. Another group of requests is currently being processed. We will continue to assess and monitor the extent of the interest our residents have for our program, along with future funding needs in the coming weeks. This is just the beginning of the long road to recovery for our community. We are grateful for your support and well wishes and will update you through email and social media as we progress.
Sincerely,

Stephen L. Spears
Executive Director