13 Jul

Key Passing Marks Completion of 'Ele'ele Iluna and Kicks Off Waimea Huakai Project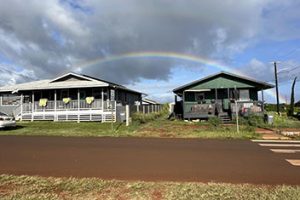 On the afternoon of June 23, 2023 Kaua'i Habitat for Humanity passed the keys to the first two completed homes in the Waimea Huakai subdivision and final three homes in 'Ele'ele Iluna, which mark the completion of the subdivision. The recent home completions bring the total number of homes provided by Kaua'i Habitat to 233.
"We are proud of the new 'Ele'ele and Waimea homeowners and honor all their hard work to make this happen," said Kaua'i Habitat Board President Doug Haigh. "I am privileged to have been part of Habitat as a volunteer since 2004 and seeing the completion this week of our long-term project here at 'Ele'ele Iluna brings a sense of real accomplishment and pride for the important work we do."
The key passings are significant as they mark the completion the organization's 16-year long 'Ele'ele Iluna subdivision project and the beginning of its Waimea Huakai subdivision which will provide 32 single-family homes in addition to the 35 affordable rental units developed by the County of Kaua'i and Ahe Group to the area. The 24 acres at 'Ele'ele Iluna were acquired from McBryde Sugar Company in 2007. Kaua'i Habitat built the subdivision in two phases and has provided a total of 125 truly affordable homes in 'Ele'ele.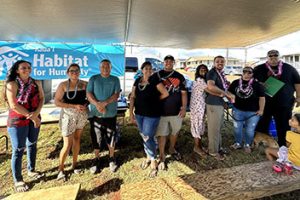 The newest Habitat homeowners to receive their keys were: Jolynn Largo and Robert Badua, Parnell and Brayanna Legaspi, Randall "Lumbo" and Kuulei Palau, Melody Pacanas, and Joshua and Hope Del Conte.
Executive Director Milani Pimental stated, "Today is our opportunity to celebrate the hard work and accomplishments made by our homebuyers, who worked diligently alongside our staff and volunteers during the construction of the homes, and all the community leaders, partners, supporters, and volunteers who made this tremendous occasion possible. We want to specifically thank our partners who provided direct support: USDA Rural Development and the High Energy Cost Grant Program, Rural Communities Assistance Corporation, State of Hawaii Grant-In-Aid, County of Kauai along with its Housing Agency and funding through HOME Investment Partnership program, Community Development Block Grant, Cooke Foundation, Grove Farm, Hawaii Community Foundation, house sponsors like the former Kauai Lumber, Capt. Andy's Sailing, Kauai Board of Realtors, Servco, Nareit Foundation, Lowe's, and last but not least the countless volunteers and community partners who give of their time and funds to support our home construction projects and all other areas of our mission."
Habitat staff and Board Members presented the keys to the families, as family members, community leaders and volunteers went door-to-door to congratulate each new family. The group then gathered for a reception of refreshments and fellowship in the middle of the completed community created by the non-profit.
Housewarming gifts of welcome baskets and plants were provided by community members, Koloa Surf Co., Kauai Veterans Memorial Hospital staff, and Kaua'i Habitat for Humanity and its Homeowner Support Committee. Paintings from local artist Sandy Ambrose, and handmade quilts from Jeni Hardy were presented to bring warmth and beauty to each new home.
Funding for the recently completed homes was provided by USDA affordable mortgage loans (USDA Rural Development Section 502 Direct Loans to Homebuyers) and a USDA Rural Development Section 523 Technical Assistance grant which funded overhead costs related to the construction of the homes.