17 Jan

Kaua`i Habitat holds groundbreaking ceremony for Phase II of `Ele`ele Iluna Subdivision

'Ele'ele, Hawai'i –On Friday, January 17, 2014, Kaua'i Habitat for Humanity held a groundbreaking ceremony for Phase II of its 'Ele'ele Iluna Subdivision. The long awaited project will result in an additional 107 more affordable homes for Kaua'i. Crews are slated to mobilize and begin infrastructure work and lot preparation for the first 48 lots as soon as possible.

According to Executive Director Stephen Spears , "Kaua'i Habitat is the only Habitat affiliate in Hawai'i that is pursuing subdivision development as a response to the growing need for housing. We have a duty to our community – nearly 2,000 out of our 65,000-person population has contacted our office expressing interest in becoming a Habitat homeowner. Our community has waited a long time and is really getting excited over the opportunities presented by this project." Spears also added that "We owe thanks to our many donors, volunteers, and supporters, especially the County of Kaua'i, the Housing Office, and Esaki Surveying for their steadfast efforts in raising awareness about the growing need for affordable housing on the island and getting us to this point today."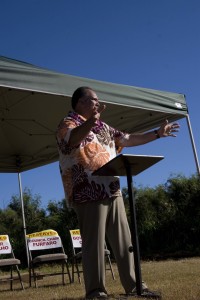 Mayor Bernard Carvalho, Jr. was present at the ceremony to make opening remarks. "2014 promises to be a very good year for affordable housing projects and having the blessing for phase two of 'Ele'ele Luna is such a wonderful way to start the year. I commend Habitat for Humanity for their mission of providing affordable housing for our residents and the county is pleased to support their efforts with financial resources," said Mayor Carvalho. "We can also look forward to breaking ground on Rice Camp Kupuna Housing in Līhu'e, 60 units in the first phase, and Kolopua in Princeville, which will provide 44 workforce units."
During remarks by Governor's Liaison Wanda Shibata on behalf of Governor Neil Abercrombie, she read, "I commend Kaua'i Habitat for Humanity for providing hard-working families with the tools to become homeowners through its self build program."
"It is the families' goal to achieve the transformative effect of owning their own home and their willingness to work on it themselves that really makes this project work," said Board President Thad Bond. Campaign Chair Fran McDonald shared remarks from Representative Daynette Morikawa who wrote that "We appreciate your contributions to enhancing the lives of our families." McDonald went on to say, "Now is a critical time. With financing in place for the remaining infrastructure work, we need to keep the momentum strong and raise additional funds for the construction of the homes."
Plans are being made to hold informational meetings about the subdivision and how to apply for homeownership during the month of February. Crews are expected to begin construction of homes by late summer this year. Increment A consists of 48 homes and Increment B consists of 59 homes, which will be built in groups of 12-15 per year. Those interested in submitting an application for homeownership can contact Catherine Shiningstar Kaauwai, family services manager, at 808-335-0296 ext. 117.
# # #
About Kaua'i Habitat for Humanity
Kaua'i Habitat for Humanity is a local affiliate of Habitat for Humanity International, an ecumenical, nonprofit, Christian housing ministry. Its mission is to eliminate poverty housing and homelessness from the world – one house at a time on Kaua'i – and to make decent shelter a matter of conscience and action. Through volunteer and homeowner labor, and donations of money and materials, Habitat builds and rehabilitates simple, decent houses.
Kaua'i Habitat features two main home building programs: New Home Construction Program and Repair and Renovation Program. Kaua'i Habitat for Humanity also operates ReStore®, which sells new and used discounted building and construction materials and household items. Proceeds from ReStore® support Kaua'i Habitat for Humanity's mission to build decent, affordable housing. Since 1992 Kaua'i Habitat has built 111 affordable homes and made critical repairs to 20 existing homes for Kaua'i families whose household income is between 30-80% of the median Kaua`i income. Because the critical need for affordable housing continues to persist on our island, Kaua`i Habitat has pledged to scale up our capacity and build our next 100 homes before the next decade.
Kaua'i Habitat for Humanity is pledged to the letter and spirit of U.S. policy for the achievement of equal housing opportunity throughout the Nation. We encourage and support an affirmative advertising and marketing program in which there are no barriers to obtaining housing because of race, color, religion, sex, handicap, familial status, or national origin.
For more information, to donate or to volunteer, please visit www.kauaihabitat.org, or follow us on FaceBook (www.facebook.com/kauaihabitat) or Twitter (@kauaihabitat).