09 Feb

Hawaii Village Build Team Builds Homes and Hope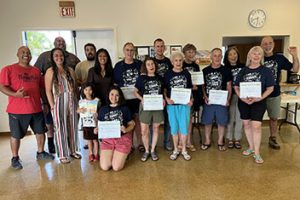 We once again were blessed to have a Hawaii Village Build Team visit the island to build homes, communities and hope with us. This team of nine led by seasoned team leader, Jean Currie, took on multiple tasks as they volunteered at our construction site and ReStore. The team consisted of several familiar faces as well as a few newcomers. One familiar face was that of Millie who was part of a Hawaii Village Build Team last year and who we believe may be the oldest volunteer to serve at Kaua'i Habitat for Humanity at 92. It was a delight to see her and the other returning volunteers as well as welcome the new members to the 'ohana. As always, Habitat is grateful for these amazing volunteers and is always impressed by their dedication to our mission.
The Hawaii Village Build program supports the mission of Habitat for Humanity by providing cross-cultural experiences, mobilizing volunteers, building sustainable relationships, and generating resources that create long-term advocates for affordable housing. It replaces the pre-existing Habitat for Humanity International Global Village Program that was discontinued in 2018. In 2020 Hawaii Habitat for Humanity Association, Inc. (Hawaii Habitat), the State Support Organization, partnered with local Habitat affiliates to launch their own statewide program to address the need for volunteers.
If you or someone you know is interested in visiting Hawai'i to partner with a local family and immerse yourself in our unique culture should visit the Hawaii Village Build website at www.hawaiihabitat.org and click on Hawaii Village Build.