28 Jun

Hawai`i Habitat Association Launches Hawai`i Village Build Program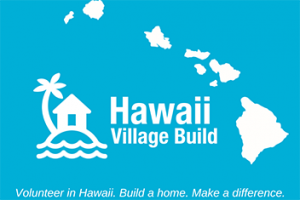 Hawai'i Habitat for Humanity Association, Inc. and Kaua'i Habitat for Humanity are excited to announce the July 1st launch of the Hawai'i Village Build program. This program will replace the discontinued Global Village program, that once brought much needed volunteers from other states to Hawai'i to build homes.
Habitat for Humanity International's travel and build program, Global Village, contributed a sustainable solution for Habitat Affiliates and was a rewarding experience for both Habitat families and volunteers. HHFI's decision to terminate domestic GV trips in December 2018 significantly impacted Hawai'i, which naturally drew volunteers and thrived because of its remote location and unique culture, and resulted in the reduction of volunteers by more than 50%.
"With a shortage of volunteers in Hawai'i, families may encounter a longer wait until they can have a safe place to call home. To meet Hawai'i's need for volunteers, Hawai'i Habitat has joined forces with local Habitat for Humanity Affiliates to host a nationwide program that offers volunteers an opportunity to travel and work on build projects for Habitat families across the state of Hawai'i," said Hawai'i Habitat for Humanity Association Executive Director, Jean Lilley.
"Our Habitat partner families appreciate volunteers who are willing to travel to help build their home. This travel and build concept becomes more than just a volunteer trip. It's a meaningful experience for both our families and volunteers. The best part is that we get to share our aloha spirit and raise awareness about home affordability with the world," said Habitat for Humanity Hawai'i Island Executive Director, Patrick Hurney.
Hawai'i Affiliates built and repaired 71 homes across the state in 2019 and 657 homes since 1988.
To participate in the program or learn more about Hawai'i Village Build, visit www.HawaiiHabitat.org/Hawaii-Village-Build.