04 May

Habitat Surpasses 200 Homes on Kaua`i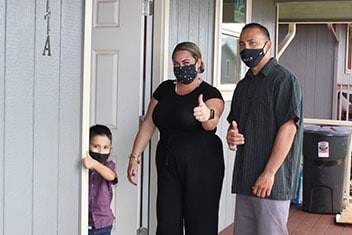 On Friday, April 30th, 2021 Kaua'i Habitat for Humanity passed the keys to six new homes on Kaua'i, raising the total number of homes constructed on island by the nonprofit to 208. Another group of 3 homebuyers received the keys to their homes on March 4, and five additional homebuyer families were presented their keys on March 26. Kaua'i Habitat will now turn its attention to completing the remaining 23 homes to be built in the subdivision.
"As we reach this exciting milestone of surpassing our 200th home on Kaua'i, let it be known that we are not just building homes, we are strengthening our families to become future leaders in our community." Stated Leona Sa McDermott, Board President of Kaua'i Habitat for Humanity. "When you help a family grow into their full potential, the impact of our support can bear fruit for generations to come."
Today's new homeowners include Donna Medeiros, Carrie Evans, Mark & Candace Vargas, Harold Kali, Kayla Armstrong, and Chad Chikahiro. Those who received their homes in March were Nerissa Durant, Cosme Amulacion, Robert Williams, Zachary Kawai, Russ Kanahele, Paula Bacio, Jenilee Robyn, and Amy & Sonny Kaleiohi.
In light of safety concerns surrounding the pandemic, the new homebuyers received the keys to their new homes from Habitat staff and board members in a scaled down home dedication event as family members and volunteers congratulated them from a distance. House warming gifts such as gift cards, welcome baskets, hats and t-shirts, plants and artwork were provided by community members, Grove Farm, Koloa Surf Co., local artist Sandra Ambrose and Kaua'i Habitat for Humanity ReStore.
The event was highlighted in the Sunday, May 2, 2021 edition of The Garden Island newspaper. If you would like to read the complete article "Celebrating new homes" as published click here.