18 Aug

Grove Farm Builds Community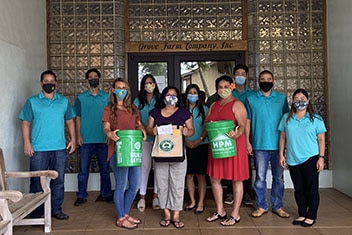 Our current homebuyers are just a portion of the fortunate recipients of the "Community Wins! Program" by Grove Farm. In an effort to help residents in need as well as suffering local businesses, Grove Farm came up with the program as a way to support local families and local businesses at the same time. It's a win, win for our community!
The Community Wins! Program began when Grove Farm purchased $50,000 in gift certificates from local eateries and community vendors and then partnered with five local agencies to distribute them to those in need. "We commend Kaua'i Habitat for Humanity for all the great work you are doing on our island to encourage home ownership. Striving to build communities is a responsibility we all share and is key to Grove Farm's vision for Kaua'i." Stated Warren Haruki, President and CEO of Grove Farm. Along with Kaua'i Habitat for Humanity; Big Brothers Big Sisters (Kaua'i), Child and Family Services, county Agency on Elderly Affairs and Kaua'i Hospice were also chosen to partner in this generous program.
Habitat homebuyers were thrilled to receive gift certificates from local businesses like Dani's Restaurant, HPM Building Supply, Hanalima Bakery, Mama Lucy's Kitchen, Gina's Anykine Grinds Cafe, The Fish Express, Tip Top Motel, Cafe & Bakery, Mark's Place,  and Wrangler's Steakhouse. To learn more about this program and participating local businesses read the article "Building a stronger community" as it appeared in The Garden Island newspaper.
The Garden Island – Building a stronger community