17 Nov

Goodbye Dear Friend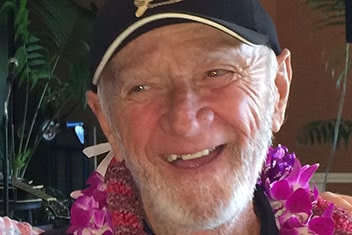 It is with a heavy heart that we say goodbye to our dear friend and longtime ReStore volunteer Loren Johnson, Sr. who recently lost his battle with cancer. He was 77 years old.
Those of us that knew Loren well, will remember him as an energetic and life-loving man. He retired at 62 and moved to Kaua'i from Homer, Alaska. In addition to volunteering at Habitat, he also volunteered with National Tropical Botanical Garden, Malama Kaua'i, Surfrider, Waipa Foundation, and Hawaiian Island Humpback Whale National Marine Sanctuary. Loren was a retired educator, Army veteran, great story teller, and adventurer. He was busier in retirement than his working days!
Prior to his cancer he was in much better shape than most people, and could certainly out hike any of us! Loren had a love for volunteering, nature, fishing (trout season will not be the same), a love for showing off his island home to visitors, canoeing, hiking, golfing, and bird watching. He was a dearly loved team member here, who showed a passion for what most would call a 'dirty job' – sorting and taking out recycling. In fact,  his Facebook profile listed him as an "Environmental Tech" volunteer at Habitat.
Loren was a very humble person, but he did beam with pride for the nonprofits he served when honored for his achievements with community volunteerism. In 2014, Kaua'i Habitat nominated him for the Kaua'i Outstanding Older American Award, which he won. Later that summer he went on to earn accolades at the State level as an Outstanding Older American for his contributions and commitment to staying healthy and active. He was interviewed a number of times since then about his community service efforts and always had wonderful things to say about the organizations he worked with.
Loren made a tremendous impact on so many of us, he will be truly missed.