02 Apr

Five New Neighbors in 'Ele'ele Iluna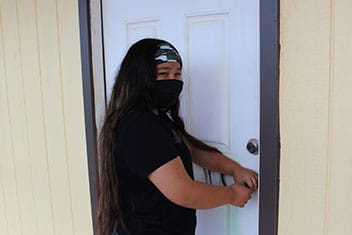 On Friday, March 26, 2021 Kaua'i Habitat for Humanity passed the keys to five new homes on Kaua'i. It marked the end of the long but rewarding journey (made especially difficult by this past years obstacles), of building ones own home. The deserving homebuyers include Nerissa Durant, Cosme Amulacion, Robert Williams, Zachary Kawai, and Russ Kanahele.
These homebuyers achieved a tremendous accomplishment during a worldwide pandemic. "It hasn't been an easy feat," stated Chelsea Crapser, who manages the volunteer program at Kaua'i Habitat, "these homebuyers weren't able to utilize traveling volunteer groups and had to rely on themselves and their 'ohana to get the work done. We are very proud of all they have accomplished."
In light of safety concerns surrounding the pandemic, these new homebuyers also received the keys to their new homes from Habitat staff and board members in a scaled down home dedication event, as family members and volunteers congratulated them from a distance. House warming gifts such as gift cards, welcome baskets, hats and t-shirts, plants and artwork were provided by community members, Grove Farm, Koloa Surf Company, Sandra Ambrose and Kaua'i Habitat for Humanity ReStore.