19 May

Asian American and Pacific Islander Heritage Month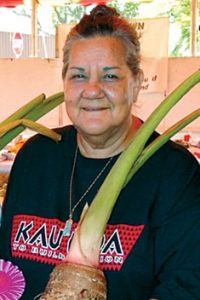 We could not let Asian American and Pacific Islander Heritage Month pass without highlighting the tremendous impact on affordable housing on island, made by LaFrance Kapaka-Arboleda of Anahola. The late LaFrance Kapaka-Arboleda, known to many as "Auntie LaFrance," was a respected cultural resource and very active in the Hawaiian community. She was known as a champion of the underprivileged, and in addition to her work addressing the need for affordable housing on Kaua'i, she also served on numerous governmental and nonprofit boards addressing issues on economic development, restoration of cultural sites, and land preservation.
In 1992, Hurricane 'Iniki struck Kaua'i, destroying over 1,500 homes and damaging over 5,000. At the time there was no Habitat for Humanity affiliate on Kaua'i so Habitat for Humanity International sent long-time employee Rick Hathaway to seek out leaders who could help establish a Kaua'i Habitat affiliate. He soon met with Kapaka-Aroleda, and together they gathered a group of compassionate and forward thinking individuals who formed the first Board of Directors and established Kaua'i Habitat for Humanity in December 1992. At the departure of Rick Hathaway, "Auntie LaFrance", became Kaua'i Habitat's executive director.
As Executive Director, Auntie LaFrance had the foresight to rally the community to address not only the short term needs in the aftermath of 'Iniki, but also the longer term needs of the community. She was aware that land would be a limiting factor to the future impact that Habitat would have for Kaua'i families. She began the process by which Kaua'i Habitat for Humanity acquired and purchased 24 acres of land in 'Ele'ele from McBryde Sugar Company. This land is now the 'Ele'ele Iluna subdivision and provides 125 homes to Kaua'i families. Auntie LaFrance chose this name for the subdivision because of the significance it held, as it translates to "rising up out of the darkness," and perfectly complements the work done by the Habitat affiliate. For Auntie LaFrance, the work of Kaua'i Habitat was always about the families and the people. During her time as executive director she said, "It wasn't the houses that we counted being built, but the families and the people that were able to build homes."
Asian American and Pacific Islander Heritage Month is observed in the United States during the month of May, and recognizes the contributions and influence of Asian Americans and Pacific Islander Americans to the history, culture, and achievements of the United States.