20 May

17 New Homeowner Families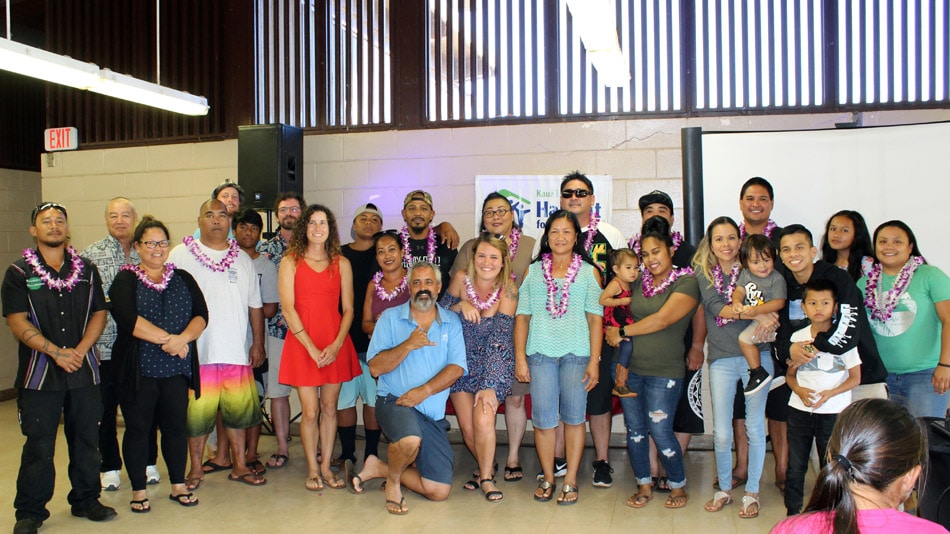 On Friday, May 17, Kaua'i Habitat for Humanity held a Homeowner Recognition Ceremony to celebrate the completion of homes by its largest group of homebuyers since the inception of the organization in 1992. Staff, volunteers, donors, government officials, family, and friends were present to celebrate the accomplishments of the 17 families who now reside in the 'Ele'ele Iluna subdivision. Those homeowners are: Eric Bartolome and family, Tory and Theresa Daligcon and family, Celeste Davis and family, Che'Lyssa and Cha'Nyce Fabro and family, Wilmark Geronimo and family, Mark Halog and family, Sunni Hew and family, Blanche Higashi and family, Koty Kaiakapu and family, Ashley Muraoka and family, Shane Patinio and family, Virigina and Sullivan Reyes and family, Zana Ritch and family, Karen Robinson and family, Shaylise Sarmiento and family, Dolly Taala and family, Ioane Toyofuku and Tiani Kamakea and family.
The crowd was welcomed by Kaua'i Habitat Deputy Director Milani Pimental, who introduced guest speakers Mayor Derek Kawakami, Kaulana Finn (representing Congresswoman Tulsi Gabbard's office), and Carrice Gardner (representing Governor David Ige's office). Kind words were also expressed by Kaua'i Habitat staff and board including Executive Director Stephen Spears, Board President Leona Sa McDermott, Volunteer Program Manager Caitlin Pounds and Community Outreach Officer Chris Young. A main theme of the event centered around how all sectors of the community; whether it be business, government, community groups or individual residents, all came together to make an accomplishment like this possible. A group of volunteers from One 'Ohana, which is made up of members of the Episcopal churches island wide, was also recognized for their dedication to gathering once a month to build homes, community and hope with Kaua'i Habitat.