24 Feb

Rotary Youth Exchange Students Give Back to Hawai'i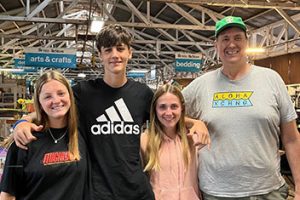 As many of you know the Rotary Club does good things for people all around the globe. One program the club offers is the Rotary Youth Exchange, which is a volunteer driven program that gives high school students the opportunity to study abroad for an entire year. Currently Hawai'i (Rotary District 5000) has four students that are studying and experiencing the culture abroad, while four other students are spending time studying here and experiencing our culture.
Since Rotary is an International Service Organization, the students like to participate in service projects. With the need for affordable housing so present on island and since the students are high school age and can help with their hands, District 5000 Hawai'i Youth Exchange Chair Tom Gross, thought Kaua'i Habitat for Humanity ReStore would be a good fit for the student's service project. So, Nicolas Alaya from Brazil, Elsa Pedech from France, and Sara Nidasio from Italy spent a half day volunteering at the Kaua'i Habitat for Humanity ReStore.
It's always great to see community organizations like Rotary helping our island community, and we are extremely grateful to have them spending time helping local families build stronger futures through homeownership. Mahalo Rotary District 5000.