13 Oct

Rent-A-Center: Teamwork Makes the Dream Work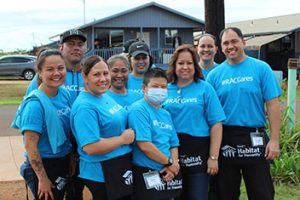 When you think of a Habitat Team Build, the first thing that comes to mind is building homes. But often more than that is produced while spending the day working side by side serving others. I couldn't help thinking that on Wednesday, October 12, 2022, when twelve employees from Rent-A-Center arrived on the 'Ele'ele Iluna jobsite.
The team members all work at different locations throughout the state. Several came from Oahu, as did Rent-A-Center District Manager Donna Leanio. Others came from Maui and Big Island, while one works right here at the Kaua'i location. What better way is there to come together, bond, and get to know each other than by helping others. A Team Build builds more than just houses; it builds a sense of community for all involved. "We should do this every month!" one team member was overheard saying of the experience.
After the team was welcomed by Kaua'i Habitat executive director Milani Pimental and briefed on safety procedures, they went to work on the future home of Josh and Hope Del Conte. The tasks for the day included soffit work, caulking and window installation.
In addition to Rent-A-Center providing volunteers to Kaua'i Habitat as part of their Rent-A-Center Cares Program, they also presented the nonprofit with $10,000 to help the organization in their efforts to provide affordable housing to the families of Kaua'i.
Kaua'i Habitat for Humanity welcomes both local and visiting volunteer groups in their Team Build program. These builds are a great way to give back to the community, while providing a rewarding bonding experience for the volunteers. For more information or to schedule a build day, please contact Volunteer Program Manager Nicole Pacanas at (808) 335-0296 ext. 1013 or email volunteer@kauaihabitat.org.