03 Mar

Praying Pelican Missions Builds with KHfH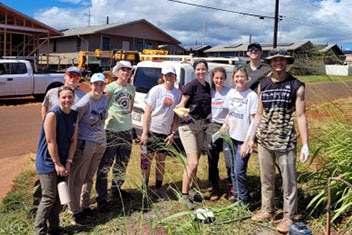 Praying Pelican Missions is an interdenominational ministry that exists to build up, encourage and assist local churches in serving their local communities. The goal is to provide mission teams the opportunity to make a long-term, genuine impact on communities by working alongside local ministries to meet real community needs. These team trips have a lasting impact on both the mission team and the local communities they are serving.
In early March, Praying Pelican Missions had a team on Kaua'i partnering with Kaua'i Christian Fellowship. The team, made up mostly of high school seniors, worked on several projects with the host church, including building homes, communities and hope with Kaua'i Habitat. While volunteering with Kaua'i Habitat for Humanity, the team was able to split up and work alongside Habitat staff, AmeriCorps volunteers, and local homebuyers at both the construction site as well as the Kaua'i Habitat for Humanity ReStore. The energetic group made big contributions while working on four homes at our 'Ele'ele Iluna subdivision. They tackled roofing, siding, and painting with smiles on their faces. At ReStore the team was able to sort and organize large quantities of donations that will be sold at the thrift store to raise funds for building affordable housing on island.
"These are really great kids," shared Nicole Pacanas of Kaua'i Habitat, who helped coordinate the volunteers. "They were so respectful and very hard working." Kaua'i Habitat for Humanity is extremely grateful for the support of groups like these and encourages any group interested in making a difference on island to join us in our mission. For more information on volunteer opportunities for both individuals and/or groups visit  Volunteer | Kauai Habitat for Humanity.