11 Nov

Oceanfront Sotheby's Builds Homes and Hope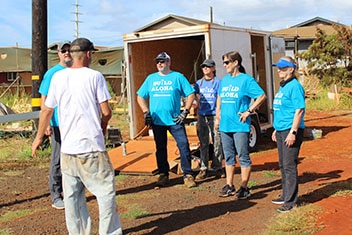 The great folks at Oceanfront Sotheby's International Realty were back at the jobsite today for another great day of building homes, communities and hope. It's not the first time this group has been out to the jobsite. In fact, it isn't even the first time this month that these amazing volunteers have shown up to work alongside our staff and homebuyers.
"We'd like to build an entire house," stated Sotheby's International Realty owner, Donna Apisa, "we're just getting warmed up." The volunteer group of realtors is well on their way, as today alone, they broke up into smaller groups to work on stairs, trim work, and rain gutter installation. It was truly inspiring to see so many people coming together in our 'Ele'ele Iluna neighborhood to address a critical community need and help out their fellow neighbors.
At Kaua'i Habitat for Humanity we are always thrilled to have groups from the community come out to help us build. We want to give a special thank you to Oceanfront Sotheby's International Realty for all they have done, and encourage any group looking to make a positive impact on island to consider volunteering with us. If you are a member of a group interested in volunteering with us, please, contact Nicole Pacanas at (808) 335-0296 ext. 1013 or email volunteer@kauaihabitat.org. We think you'll be glad you did.