06 Sep

Layton Construction Builds Aloha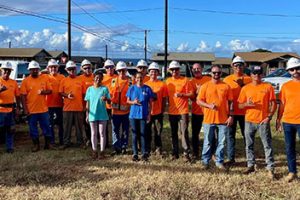 In an amazing display of the aloha spirit, a build team from Layton Construction arrived at our 'Ele'ele Iluna jobsite to work alongside our homebuyers as they did construction on their new homes. This isn't the first time the nationally ranked construction company has done something like this. In fact the Kaua'i branch of the company, which has offices throughout the mainland and Hawaii, has routinely made volunteering with Kaua'i Habitat a priority.
"The emotions of the homeowners who were on site with us ranged from giddy to grateful and even a little weepy." Shared Mia Checkley of Layton Construction on Facebook. "We all feel SO honored to help bless these folks in this manner."
The build team was given the task of siding two homes in the subdivision, but had quickly completed the task by late morning. The group then went on to cutting in doors and windows which they had completed before breaking for lunch. If that wasn't enough, these amazing volunteers spent the afternoon siding a third home with the nonprofit. Volunteer labor like this goes a long way to keeping homes truly affordable for the hard working families on island. Kaua'i Habitat is not only impressed by the dedication of these fine folks, but is also so grateful for the outpouring of support they have shared with those we serve. Mahalo Layton Construction for all you have done for us and our community. Way to #BuildAloha!