22 Mar

KHfH Receives Transformational Gift From MacKenzie Scott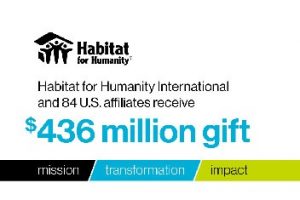 Kaua'i Habitat for Humanity is among the 84 Habitat affiliates and Habitat for Humanity International to receive a transformational gift from American author and philanthropist MacKenzie Scott. Habitat for Humanity Maui also received a portion of the $436 million of unrestricted giving. Kaua'i Habitat received $5.75 million and Habitat for Humanity Maui received $3.5 million of the generous donation, that will help further Habitat's vision of a world where everyone has equitable access to a safe, decent and affordable place to call home.
"Our affiliates are well-equipped to be stewards of this transformational donation. For Kaua'i, this gift will accelerate our capacity building in key areas such as land acquisition and development in order to provide much-needed lots for Kaua'i," said Kaua'i Habitat Executive Director Milani Pimental.
"This generous donation will go a long way towards ensuring the sustainability of Habitat for Humanity Maui and our ability to bring more homeownership opportunities to our community," said Sherri K. Dodson, Executive Director of Habitat for Humanity Maui.
Habitat for Humanity International will receive $25 million that will be used to prioritize advocacy and programmatic efforts  designed to dismantle systemic racism in housing. Specifically, the gift will allow Habitat to advocate for policy proposals and legislation that enables millions of people access to affordable housing through it's Cost of Home advocacy campaign; increase Black homeownership in the U.S. by targeting current systemic barriers through a new initiative that will launch this summer; and leverage innovative capital investments that service communities of color.
"Habitat works to break down barriers and bring people together – to tear down obstacles and build a world where everyone, no matter who we are or whered we come from, has a decent place to live," said Habitat for Humanity International CEO Jonathan Reckford. "This incredible gift helps make that work possible."