06 Jul

KHfH Breaks Ground in Waipouli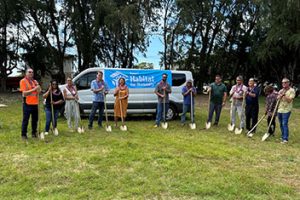 On Wednesday June 21, 2023 Kaua'i Habitat for Humanity held a groundbreaking and blessing ceremony in Waipouli at the site of its Kauhale O Waipouli project. The groundbreaking will kick off the infrastructure development with the offsite waterline work performed by Kaiwa Construction, Inc.
"We are excited to be starting the Kauhale O Waipouli project," said Doug Haigh, President of the Kaua'i Habitat Board of Directors, "bringing much needed affordable housing to East Kaua'i."
"We truly thank the Kaua'i community for supporting the work of Habitat on Kaua'i for the last thirty years," said Executive Director Milani Pimental. "Our need for housing continues to persist island wide and we look forward to working with our partners to provide truly affordable housing opportunities for our community."
Kauhale O Waipouli will feature 17 housing units consisting of 8 duplexes and 1 single family residence. The duplex model is the most affordable type of home that Habitat can provide due to building codes, spacing requirements, and other considerations. There will be 12 three-bedroom and 5 two-bedroom units with 2 parking stalls beneath each unit.
At least 13 of the 17 units will be sold at and below 80% of Kaua'i County area median income (AMI), while 4 units will be sold below 115% of the area median income. Permanently Affordable Living Hawai'i (PAL) is a co-developer on the project and is planning to build 4 units at or below 115% AMI.