16 Dec

KHfH and KCC Work Together for Better Kaua'i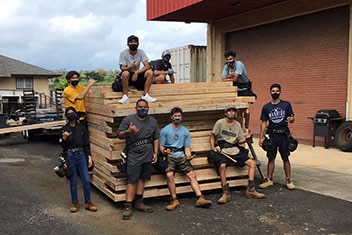 A relationship between Kaua'i Habitat for Humanity and Kaua'i Community College formed last year. A mutually beneficial relationship that in turn benefits the entire island. It began when the Director of Construction at Kaua'i Habitat for Humanity, Trace Wright, and Carpentry Instructor at Kaua'i Community College, Duke Lang, came together to foster a relationship that would result in the two organizations working together.
The two collaborated on an idea to address obstacles that each organization had independently that could be solved by working together. For example, Kaua'i Habitat for Humanity relies heavily on volunteer labor to keep homes truly affordable for families on island. At the same time, Kaua'i Community College has carpentry students that need true life experience in construction to further their education.
A solution for each entity was easily remedied by the other. "It works out great," shared Trace Wright. "I send him building plans that he can incorporate into his lesson plan, and in turn the students can turn what they learned into real life experience by volunteering." As a result, the group of student volunteers framed two entire homes for Kaua'i Habitat for Humanity so far.
The relationship between the community college and nonprofit offers even more benefits than just those to the students and Habitat homebuyers. It also helps build relationships that will continue well into the future. "The hope is that students will see the opportunities available at Kaua'i Habitat through their work with Kaua'i Community College and may come to work as Construction Supervisors with us." shared Wright when asked how he feels about the groups working together.
Of course it goes without saying that the biggest winner in this scenario is the Kaua'i community. We all know how important relationships are on island, and whenever we can work together to make things better for our neighbors everyone wins. Whether it's a young person who is building their future through knowledge and education, or a young family who is building a secure and stable future through homeownership, when we take care of each other the community thrives.