30 Aug

Keys Passed to Five New Habitat Homebuyers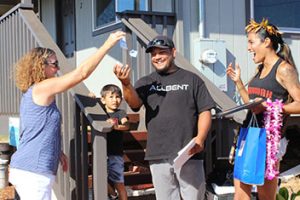 It was a beautiful day on Friday, August 26th, 2022 as Kaua'i Habitat for Humanity passed the keys to five new affordable homes on Kaua'i. You could see trucks packed with belongings parked nearby as families received their keys and prepared to move into their new homes.  The deserving homebuyers who received their keys were Dexter Corpuz, Keoki Pantorilla, Bradley Balaan, Robby Silva, Jr., and Michelle Skaer.
The key passing ceremony is an opportunity to celebrate the hard work and accomplishments made by the homebuyers as well as recognize all the people who made this day possible. "I love key passing days," stated Volunteer Program Manager Nicole Pacanas, "I know exactly how much this day means to these homebuyers." The ceremony began with a brief blessing performed by Rev. Kerry Holder Joffrion of St. John's Episcopal Church as community leaders, Kaua'i Habitat staff, AmeriCorps members, volunteers, financial supporters, partners, friends and family shared in this happy occasion.
Kaua'i Habitat Executive Director Milani Pimental was the Master of Ceremonies for the event and shared with onlookers what a long difficult journey building a home can be, and how proud these homebuyers should be of this achievement.  The new homebuyers then received their keys from Habitat staff and Board Members, as the crowd went door-to-door to congratulate each new family. House warming gifts such as welcome baskets, plants and artwork were provided by community members, Koloa Surf Co., and Kaua'i Habitat for Humanity and its Homeowner Support Committee.
The new homes are part of the 'Ele'ele Iluna subdivision, which once completed will have provided 125 affordable homes to the hardworking families on the west side of Kaua'i. Currently, only three homes remain to be built in the subdivision. This brings the total number of homes provided on island by Kaua'i Habitat to 228.
In addition to preparing for the final 3 homes in 'Ele'ele, Kaua'i Habitat has also begun construction of the first homes in the Waimea Huakai subdivision.  This development in Waimea, HI will consist of 32 affordable single family homes to be built adjacent to a 35-unit affordable rental property recently constructed by another developer.
Support for the recently completed homes was provided by USDA affordable mortgage loans (USDA Rural Development Section 502 Direct Loans to Homebuyers) and a USDA Rural Development Section 523 Technical Assistance grant.