20 Jun

Kaua'i Coffee Employees Give Generously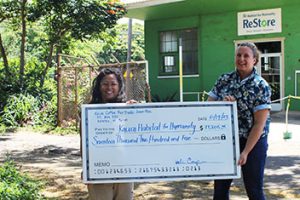 On Monday, June 19th, Valerie Cooper, an employee of Kaua'i Coffee and president of their Fair Trade Committee, presented Kaua'i Habitat Executive Director Milani Pimental with a check for $17,205. The generous donation came about as employees of Kaua'i Coffee assessed the needs of our local community to distribute money collected in their Community Development Fund, which is managed and owned by the employees.
"The idea is to empower employees to address the most pressing needs of their families and surrounding communities," stated Cooper, "such as food security, housing, access to education and childcare, health services, and other health and sanitation issues."
In addition to Kaua'i Habitat other recipients of the Kaua'i Coffee employee's generosity include Kauai Independent Food Bank, Boys and Girls Club of Hawaii, Salvation Army, The United Way and Catholic Charities. Each organization received 15% of the funds designated for distribution.