20 May

HPM Delivers Act of Service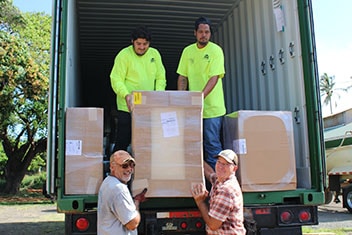 HPM Building Supply is celebrating it's 100th Anniversary. It's time for them to celebrate, but instead of receiving gifts, HPM is giving them. It's true, HPM is celebrating this huge accomplishment by fulfilling "100 Acts of Service" to celebrate their 100 years. They believe this amazing anniversary is the perfect time to celebrate all the people that have played a part in shaping their history, and today Kaua'i Habitat for Humanity was thrilled to be one of the recipients of their acts of kindness.
In an effort to give back and make a lasting impact throughout their 100th year, HPM is planning to partner with and support 501(c)3 nonprofits like Kaua'i Habitat and other community organizations throughout the state. This morning when they delivered cabinets to our baseyard, they exhibited one of these "100 Acts of Service", by staying and volunteering to help unload the semi-trailer full of cabinets. It may appear like a little thing, but it wasn't. It was a lot of work and the extra hands were tremendously appreciated by Kaua'i Habitat staff and volunteers.
Congratulations on your Anniversary HPM, and mahalo for all you have done for us and our community.