02 Aug

Home Is Where the Start Is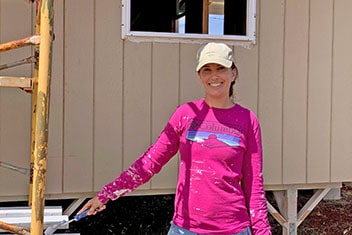 Stability is a word we hear often at Kaua'i Habitat for Humanity. It's something every family is seeking, but in these economic times, it is getting more and more difficult to achieve. It's especially difficult for young families, like Tara McCoy and her little ones, who are just starting to build the foundation for their future. This foundation will determine what that future will look like.
Like any mother, stability and security for her family has been the ultimate goal for Tara. Since turning 18 years old she has had to live in nine different housing situations due to the outrageous cost of housing on island. She has been forced to either live in less than desirable rentals or rely on roommates because that is all she was able to afford. Tara found herself spending half of her income on housing and then trying to stretch the remainder to cover all of her families living expenses. The result was there was never anything left over to cover emergency situations, much less anything that could be set aside for saving.
"I never thought it would be possible for me to actually own my own home," stated Tara when asked about her need for affordable housing. "This will improve not only my life, but my kid's lives tremendously!"
Tara heard about Kaua'i Habitat after her dad and brother began volunteering weekends to help a family friend build their home. Now, she is in the process of building her own home that will give her the stability and security she has been striving for.
"Living paycheck to paycheck is not a stable way of living. To have my forever home for me and my kids, would give me a better sense of security and not having to live in just a temporary situation. I know my blood, sweat and tears will go into my home."