02 Nov

Five New Families Move Into 'Ele'ele Iluna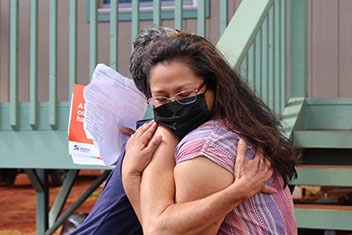 On Friday, October 29th, 2021 Kaua`i Habitat for Humanity passed the keys to five new affordable homes on Kaua'i, raising the total number of homes constructed on island by the nonprofit to 213. The new homes are part of the 'Ele'ele Iluna subdivision on the west side of Kaua'i, leaving eighteen remaining homes to be built in the 'Ele'ele subdivision before attention is shifted further west to Waimea.
"This was a tight knit group all the way through the process," stated Trace Wright, Director of Construction for Kaua`i Habitat for Humanity. "They were a dynamic group and went through life changing events during their build, yet came together strongly to pitch in on each other's homes and help each other out."
The newest group to move into the 'Ele'ele neighborhood come from various career backgrounds, including: construction, veterinary assistant, teaching, trucking, and project coordination. These deserving homebuyers are Keanu Fernandez, Raychelle Ariola-Balaan, Angela Cain, Stanley Morinaka and Michele Duey.
Building your own home is a long and sometimes difficult process. "These hardworking families worked an average of 30 hours a week doing construction in lieu of a down payment," mentioned Executive Director Milani Pimental, while addressing the attendees. "It's not easy to do and they deserve to be recognized for this amazing achievement."
Support for the recently completed homes was provided by USDA affordable mortgage loans (USDA Rural Development Section 502 Direct Loans to Homebuyers) and a USDA Rural Development Section 523 Technical Assistance grant.
In light of safety concerns surrounding the pandemic, the new homebuyers received the keys to their homes from Habitat staff and board members in a scaled down home dedication event as family members and volunteers congratulated them from a distance. House warming gifts such as welcome baskets, plants and artwork were provided by community members, Koloa Surf Co., and Kaua'i Habitat for Humanity and its Homeowner Support Committee.
In addition to preparing for the final 18 homes in 'Ele'ele, Kaua'i Habitat will soon begin construction of the first group of homes in Waimea Huakai.  This development in Waimea, HI will consist of 32 affordable single family homes to be built adjacent to a 35-unit affordable rental property recently constructed by another developer.