16 Mar

College Ministry Spreads Aloha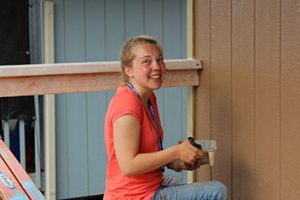 A group of students who are a part of a college ministry at the University of Tennessee at Chattanooga called The House spent a day volunteering with Kaua'i Habitat for Humanity during their spring break. The mission of The House is helping college students discover real life in Jesus Christ.
The students were drawn to Kaua'i because of the beauty of the island and their desire to learn more about Hawaiian culture. The group spent the day at our 'Ele'ele Iluna subdivision painting the interior and exterior of one of our homes. Spending the day building homes and hope with Kaua'i Habitat wasn't the only good deed the student's participated in. They also spent time planting pineapples, bagging and delivering food to the elderly and helping out other nonprofits on island.
"We fully support the mission of Kaua'i Habitat and want to do what we can to help the community!" shared Isabella Savely who organized the build day with Kaua'i Habitat. "A few of us have worked with Habitat in a different location, and we had a great experience."
We were relieved to hear that these generous young people did allow themselves some time to enjoy the beauty of the island in addition to the services they provided to the community. If you are a part of a group that is interested in spending time making an impact on the lives of Kaua'i families, click here or email Volunteer Program Manager, Nicole Pacanas at npacanas@kauaihabitat.org.