25 Aug

Celebrating Accomplishments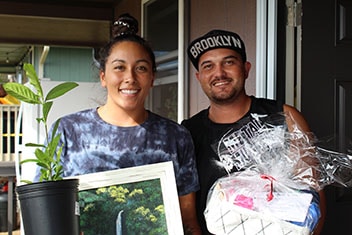 Five more families in 'Ele'ele and three in Anahola moved into their new homes with little fanfare while the rest of the world was focusing on the coronavirus outbreak. It was at a time when little could be done in the way of celebration, but we couldn't let such a life changing event pass without some form of acknowledgment and celebration.
Since gathering is still not an option, our staff (armed with housewarming gifts and good wishes) visited these deserving families to express our pride in their endeavors. Building your own home is a lot of work and requires dedication and sacrifice, and these eight families were amazing. Congratulations to each member of the Kaeo, Kane, Simpliciano, Arthur, Taala, Victor, Aki and Kaiwi 'ohanas.
A very special mahalo must also be given to the wonderful members of our community who made this event possible. Whether you donated, volunteered or advocated for affordable housing, these life changing events would not be possible without you. Also a big mahalo to Sandy Ambrose, Koloa Surf Co. and Grove Farm for donating gifts to mark this life changing time for our families.