27 Jan

Building Independence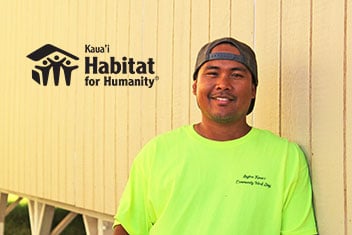 Like many on Kaua'i, Joel found himself renting a room from his mother-in-law and his growing family was running out of space. Joel, his wife, and two kids share a room and a bed. With a six year old and a nine month old, Joel has known for a while that he needs space for his family to grow. Longing to be independent, he began looking for options to become a homeowner back in 2017.  Around that time Joel read that Kaua'i Habitat for Humanity was presenting an offering for houses in the 'Ele'ele Iluna subdivision. The process took some time but he remained optimistic and was approved to begin building in 2019.
As a full-time hospital kitchen helper and working weekends as a DJ, Joel is maintaining the steady income required to own a home. With the help of his friends and family, he has been able to complete the weekly work requirements on the construction site. Having no previous construction experience, he is excited to be learning the skills needed to build and fix his house so that he will be able to be independent and self-sufficient in the future.
In a few months, Joel will find himself and his family in their brand new home. His children will have the room they need to grow and thrive. With the help of Kaua'i Habitat for Humanity, Joel can have the independence he has been working so hard for.
Through shelter, we empower!