23 Oct

Affordable Housing Isn't Always Affordable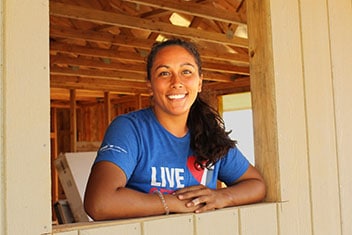 Brittney and Justin have been doing everything right and by the book. They both work full time and had been saving money as they worked toward the goal of owning their own home, but paying rent each month was not moving them any closer to reaching their goal. With a growing seven year old son, and only a one bedroom house in an unfavorable neighborhood, Brittney knew something needed to change.
Brittney and Justin had looked into getting a mortgage and other affordable housing options available on Kaua'i. "Housing is expensive on Kaua'i. Most of the affordable housing isn't really affordable.", expressed a frustrated Brittney. Both had heard about Kaua'i Habitat for Humanity from friends and coworkers, and with all other options exhausted they looked into building a home with Habitat.
The young couple soon found themselves on the construction site of their new home and are now moved in and appreciating the security that owning a home provides. Their son has his own room and yard, in a neighborhood bursting with other children to play with. This young family worked hard to reach their goals and are excited about their future and grateful for all who made it possible.