23 Nov

A Holiday Message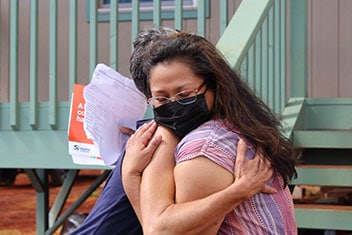 Dear Kaua'i Habitat 'ohana,
This holiday season I find myself reflecting back and giving thanks for those who came before me and created this amazing organization. Kaua'i Habitat had remarkable beginnings – largely due to the dedication of our founder, Auntie LaFrance Kapaka-Arboleda, our first board of directors, our first homeowners, and our first transformational gift of $1.5 million that enabled us to continue building homes as well as purchase 24 acres on the West side of Kaua'i that would become our 'Ele'ele Iluna Subdivision. Because of these key individuals and our community, early supporters and volunteers, Kaua'i Habitat homes can be found in Anahola, 'Ele'ele, Hanapēpē, Kekaha, Kapa'a, Kalāheo, Ha'ena, Hanalei, and Kealia.
Twenty-nine years later, the same dedication and passion exists in the hearts of many for our Kaua'i affiliate. Over the years we have built lasting relationships with friends who have become family from our own backyard, across the state, the mainland U.S., Canada, and beyond. Our previous executive director and board have created strategies to strengthen the organization and build our capacity. The generosity toward our mission has grown exponentially, thanks to the contributions of so many. This year, we received generous gifts to complete our current matching gift challenges, funding for other capital needs, plus a transformational gift that enables more home construction across the island and funds to acquire future land.
With every homebuyer, every staff member, every volunteer, every donor, every advocate, Kaua'i Habitat's mission is strengthened. I am so proud to stand among those who came before and those who join us today in pursuit of our mission. Because everyone deserves to have a simple, decent, and truly affordable home. Thank you for keeping that dream alive so that others can realize it.
Happy Thanksgiving from all of us at Kaua'i Habitat for Humanity to you and yours.
Sincerely,
Milani Pimental – Executive Director
P.S. Click here to view news of our most recent grant award that is propelling our mission forward.