14 Feb

New Year Brings New Homes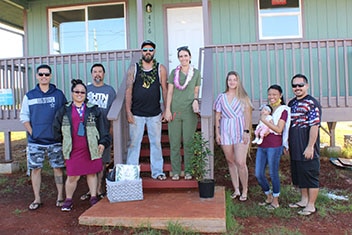 On Friday, January 14th, 2022 Kaua'i Habitat for Humanity passed the keys to five new affordable homes on Kaua'i. This brings the total number of homes provided by the nonprofit to 223. The deserving homebuyers who received their keys were Tara McCoy, Christian Parado, Miranda Wehrly, Keith & Annie Nonaka, and Joel Santos.
This is not the first group to receive their keys over the past few months. On December 10th, 2021 the keys were passed to Chelise and Andy Schmidt, Drew DesMarais and Kehealani Aqui, Devin and Kalei Frasco-Rull, Taylor Azeka, and Ordean and Noman Bukoski. Prior to that, five other families were presented their keys in late October. On October 29th, 2021 keys were passed to the homes of Keanu Fernandez, Raychelle Ariola-Balaan, Angela Cain, Stanley Morinaka and Michele Duey.
The new homes are part of the 'Ele'ele Iluna subdivision, which once completed will have provided 125 affordable homes to the hardworking families on the west side of Kaua'i. Currently, only eight homes remain to be built in the subdivision.
The key passing ceremony is an opportunity to celebrate the hard work and accomplishments made by the homebuyers as well as recognize all the people who made this day possible. "We're here celebrating the houses today," Trace Wright, Director of Construction for Kaua'i Habitat for Humanity shared while addressing the crowd, "but this is what we really do… we bring people together to change lives."
In light of safety concerns surrounding the pandemic, the new homebuyers received the keys to their homes from Habitat staff in a scaled down home dedication event as family members, community leaders and volunteers congratulated them from a distance. House warming gifts such as welcome baskets, plants and artwork were provided by community members, Koloa Surf Co., and Kaua'i Habitat for Humanity and its Homeowner Support Committee.
"It really does take a village to help each other because a program like Habitat is definitely hard work." Stated Kaua'i Habitat Executive Director, Milani Pimental. "I thank everyone who gave support and encouragement to our new homeowners along the way. Congratulations to all."
In addition to preparing for the final 8 homes in 'Ele'ele, Kaua'i Habitat will soon begin construction of the first group of homes in Waimea Huakai.  This development in Waimea will consist of 32 affordable single family homes to be built adjacent to a 35-unit affordable rental property recently constructed by another developer.
Support for the recently completed homes was provided by USDA affordable mortgage loans (USDA Rural Development Section 502 Direct Loans to Homebuyers) and a USDA Rural Development Section 523 Technical Assistance grant.