How do sign up as a volunteer?
Complete the Volunteer Registration Form (you will also be asked to sign a Waiver of Liability on your first day).
Schedule your Volunteer Orientation with our Volunteer Coordinator at volunteer@kauaihabitat.org  or (808) 335-0296 x114. A separate hour-long ReStore® Orientation is required for ReStore® volunteers.
Take our online Safety Course entitled Volunteering at a Habitat for Humanity Jobsite.
Get started and sign up for a shift!
Where are you building?
Click here to see where we are building now.

What volunteer opportunities are available?
Construction and non-construction opportunities are available for skilled and unskilled individuals including Painting, Flooring, Framing, Roofing, Foundation work, Finish work, Appliance/fixture Installation.
I am unable to volunteer in a construction capacity. How else can I help?
There are many different ways to volunteer with Kaua`i Habitat. Available non-construction opportunities consist of general office work such as: reception, filing, computer data entry, special events assistance, mailings. Non-construction work is also available in the ReStore: sorting donated goods, sales floor, general cleaning/organization. Please email our Volunteer Coordinator at volunteer@kauaihabitat.org or call (808) 335-0296 ext. 114 so that we can find the perfect opportunity to match your strengths and abilities.
I am a skilled construction worker or have trade industry experience. Can you use my help?
Most definitely! Skilled workers are a great asset to our team. Please email our Volunteer Coordinator or call (808) 335-0296 ext. 114 so that we can find the perfect opportunity to match your skills and abilities.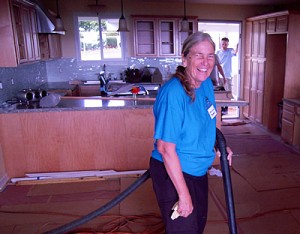 I have never built anything before. Can I still be of help?
Of course – the more the merrier! Kaua'i Habitat is proud to work with volunteers of all abilities. If you do not have any building experience, our knowledgeable staff and/or construction crew leads will be happy to train with you.
Do I need to take any training courses prior to volunteering?
Kaua'i Habitat volunteers must completing the Volunteer Safety Training Course prior to arriving at our office. To take this course now, click here.
What are your build days?
Tuesday – Saturday
What are your work hours?
Construction: 7:45 am – 4:00 pm (Monday-Saturday)
Office: 8:00 am – 4:30 pm (Monday-Friday)
ReStore: 9:00 am – 4:00 pm (Tuesday-Thursday-Saturday), Noon – 4:00 pm (Wednesday-Friday), Closed Sunday and Monday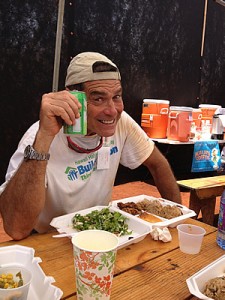 Are meals and refreshments included?
A large cooler of water is provided at the construction site. It is advisable to also bring your own water bottle to keep handy and keep you well hydrated during your work day. Lunch is typically on your own unless a meal contribution has been made by a local church, community group, or local business. Meals may also be provided for special build events such as Build-a-thons.
What do I need to bring with me?
Closed toe shoes are required. Sunblock is a must, as is mosquito repellent.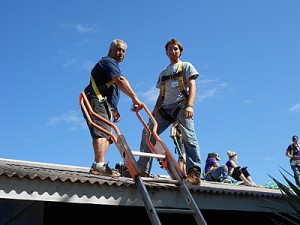 What are the weather conditions on an average build day?
Kaua'i is comprised of various micro-climates, and because of that, weather conditions may vary depending on what part of the island the build is occurring. In general, humidity levels are mild due to trade winds. The average temperature is in the 80s. Brief, frequent showers are common. Typically, the west side and south shore of Kaua'i is dry and sunny. Rain may occur more in the central and east sides of the island. Summer is the dry season. Rainy season usually runs from November-March. Hurricane season runs from June-November. Take a look at our current weather in Lihue.
Can I make a donation to support Kauai Habitat's work?
Yes! Perhaps being a volunteer AND a donor is the ultimate contribution anyone can make. You may give online anytime through our secure website, stop in at our office from 8:00 am – 4:30 pm Monday-Friday, or mail to us at P.O. Box 28, Eleele, HI 96705. If you prefer to call and speak to our Development staff, please dial (808) 335-0296 ext. 113.
What happens in the event of an emergency during my volunteer service?
Staff and construction leads will advise you of emergency procedures in the event of severe weather conditions and other emergency situations.