Safety is our first priority at Kaua'i Habitat. All volunteers must take our free online Volunteer Safety Training Course.
This course and others are provided online courtesy of Lockton Affinity, Habitat for Humanity's Affiliate Insurance Program.
Follow steps 1-10 below to properly access your training module(s) , or click here to begin the training course now:
1.  Click the link above or go directly to hfhaffiliateinsurance.com/volunteers
2. Click the "Begin Now" button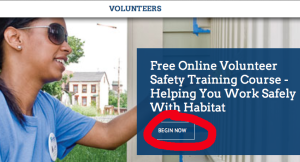 3.  A pop-up box will appear on screen called "Online Training Course Instructions"
4.  An ACCESS CODE will be shown to you on the left side of the box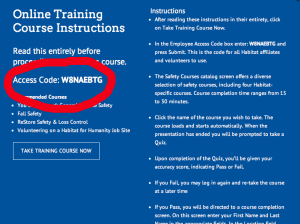 5.  Write down the access code. You will need to enter it on the next screen.
6.  Click "Take Training Course Now"
7.  The next page that comes up on screen is the Habitat for Humanity Safety Training Center page.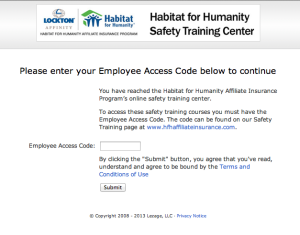 8. In the Employee Access Code box, enter the access code you wrote down earlier, make sure you read and understand the Terms and Conditions of Use, then choose the "Submit" button.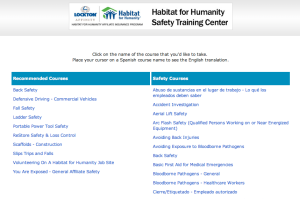 9.  A list of courses will be presented. Choose Volunteering at a Habitat for Humanity Jobsite
Click the Safety Matters. Safety First. button below to begin your training today.