Donor Spotlight:
James Amberg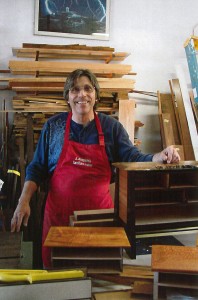 Meet James Amberg, one of our loyal donors. A retired financial manager, Amberg's love of woodworking led to starting his own business in California. He first learned about Kaua`i's need for decent housing soon after Hurricane `Iniki. But a severe back injury made it impossible for him to do many things he once loved, including woodworking. While recovering on Kaua`i, Amberg had an epiphany. He struck a deal with God, promising that if He kept him healthy, Amberg would share the profits from his woodworking business. Since then, God has kept His end of the bargain, and Amberg has kept his promise. Each time Amberg sells a piece of furniture, he donates a portion to Kaua`i Habitat. Although he lives on the mainland, his heart is on Kaua`i.
Mahalo, James, for your enduring commitment to our work!
Donors to Kaua'i Habitat for Humanity
January – December 2011
We thank you for your generosity! Your continued support enables us to eliminate poverty housing – one house at a time here on Kaua'i – and to make simple, decent shelter a matter of conscience and action. We also wish to thank the hundreds of donors who contributed their goods and housewares to our ReStore. The much needed proceeds from these resale items fund our affordable home building programs.
If we have listed your name incorrectly or made an omission, please contact us at (808) 335-0296 or email cynthia@kauaihabitat.org.
Anonymous (2)
James Amberg
Glenn Anderson
Ken Andrade
Sarah Anson
Reynold and Lorena Aranio
Stephanie Aranio
Atherton Family Foundation
Janet E. Picatti Baker
Anita Barnett
Bob Bartolo
Grady Baxter
John Bernhard
Laverne Bessert
Judy Bickenbach
Galen and Sandra Bishop
Audie Blevins
Merinda Bobeck
Brookfield Homes Hawai`i, Inc.
Barbara Brown
Stephanie Brown
Faye Burson
Kevin and Sandy Callinan
Barbara Warren and Judy F. Carson
Mercedes and Fredulin Casticimo
Herman Chong
Jane Chu
Denise Chun
Richard Chun
Cloud Family Foundation Fund of the Greater Kansas City Community Foundation
Julian Coiner
Cooke Foundation, Limited
John and Marge Cooke
Costco Wholesale Corporation
Diane Costello
County of Kauai Community Development Block Grant
Timothy and Janie Crane
Da Imu Hut
Richard and Susan Daly
Robert and Catherine Demichiel
Carol Detwiler
Anne Dimock
Jeannine and Robert Doyle
William and Susan Elliott
Oliver Emerson
Flooring Innovations
Foodland Give Aloha
Elizabeth Freedman
Friends of Hawaii Charities, Inc.
Brian Froelich
Royce Fujimoto
Jay Furfaro
Carol Furtado
Robert Furutami
Carolle Gagnon
Dellvyne Gandia
John E. Gannon
Meredith Glass
Stephen and Sharry Glass
Global Village (Team Kooiman) #11039
Global Village (Team Love) #11041
Global Village (Team Villavicencio) #11044
Global Village (Team Cocores) #12022
Global Village (Team Petrovich/Glover) CA11001
Global Village (Team Gervais/Ecole St. Anne) CA11007
Global Village (Team Petrovich) CA11008
Gloria and Stu Jones
GoodSearch
Dick and Catherine Gott
Grove Farm Company, Inc.
Doug Haigh
Hanalima Baking
Hanapepe Hawaiian Congregational Chruch
Nancy Harada
Hawai`i Community Foundation
Hawai`i Hotel Industry Foundation
Gordon Henry
The Home Depot Foundation
Mark and Susan Hovey
Merna Jim
Yvonne Johnson
Sam and Catherine Ka`auwai
Cleopatra Kamae
Alton and Janey Kanter
Brian and Coleen Kasperek
Kaua`i Island Utility Cooperative
Retired and Senior Volunteer Program (RSVP), County of Kaua`i
Kauai Harley Davidson
Kauai Lumber Inc.
Kauai Nursery and Landscaping, Inc.
Kauai United Way
Sabra Kauka and Kai Fyfe
Terry Kidd
Louise Knight
June Kodani
Sandra Kuhn
Kukui`ula Development Company (Hawaii), LLC
Thomas J. Lamont
John C. LaneDwayne
LeserLonn Liffick
Stephen and Elizabeth Lis
Lowe's
Harvey Maeda and Suzette Momohara
Teresa Makinney
Jacqueline Matsumura
Elizabeth Mayer
Robin Mazor
Michael and Corinne McCabe
Michael and Tort McCarter
Fran McDonald
James and Jo Anne McDowall
Jensey McGraw
Tim and Cathy McKenna
Mary and Jerry Miller
Winona and Don Mitchell
Edie Moe
Mokihana Pest Control, Inc.
Russell Morgan
John Moseley
Georgia Mossman
Robyn Mukai
Christiane Nakea-Tresler
Dave and Doris Nekemoto
Office of Hawaiian Affairs
Brian Okamoto
Omidyar `Ohana Fund of The Hawai`i Community Foundation
Michael Ontkean and Jamie Jackson
Donna Oshiro
Bill Oslund
Nancy Ottoson
Jim Phillips
Poipu Palms Association of Apartment Owners
Kenneth and Marielle Ponce
Dave and Ann Rake
Ramona J. Biho Realty, Inc.
Robert B. Ray
Cheryl and John Ritter
Rotary Club of Poipu Beach
Kara Rowan
Philip Schnabel
Mark Serwetz
Gretel Shanley
Sherman Shiraishi Esq.
Maria Small
South Coast Realty Advisors, Inc.
Jane Spaeth
Stephen Spears
Judith Spencer
Terri and Corey Strack
Candace Tabuchi
Tracy Davidson
Tam and Evelyn Tran
U.S. Dept. of Housing and Urban Development
U.S. Dept. of Agriculture
Richard S. Van Winkler
Certeria and Edgar Vicoy
Wendy Wasserman
Pamela Watanabe
Russell and Ramona Waterworth
Bob Weiner
Richard and Ellen Whitmore
Elsie H. Wilcox Foundation (Bank of Hawaii, Trustee)
G.N. Wilcox Trust (Bank of Hawaii, Trustee)
Karin Wilcox
S.W. Wilcox Trust (Bank of Hawaii, agent)
Joe Williams
Brian Wilson
Barbara Witman
Marjorie L. Witman
Keith Yap
Jiro and Jennie Yukimura
Molly Zerener
Louise Zovanyi