Community Impact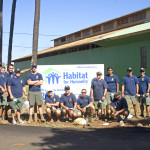 Kaua'i Habitat for Humanity provides ReStore® items for free or at greatly reduced rates to schools and nonprofits in our community. Community contributions have included: clothing, blanket and toiletries for the other non-profits who provide services for those in need; items for children's art projects; props and furniture for local theater productions; and materials for emergency shelters.Waste Management is always on the top of our minds, and is certainly a major priority at ReStore®. In its ongoing commitment to the environment, Kaua'i Habitat ReStore® recycles, reuses, or rebuilds over 70 tons of material that would otherwise enter our landfill each year. To date, Habitat for Humanity ReStores across the U.S. have diverted more than 1600 tons away from landfills.
We are proud of the work Kaua'i Habitat for Humanity has achieved in our community since its founding in 1992 after Hurricane 'Iniki. We are proud to support a strong community by building homes for families in need and working to eliminate poverty housing locally and globally. We are also proud to support a greener planet by providing an outlet for unwanted items to find a new home too – and you can help!
Donors drop off their new and gently used items and walk away with three things: (1) the feeling that they've helped the planet, (2) the joy of knowing they've helped a family in need, and (3) a tax receipt for their donation. It's a WIN for everyone involved!
Every donation that comes through our door is a promise to our partner families. With help from our donors, volunteers, and shoppers, we can promise our families that they can have acess to simple decent, affordable housing in a happier, healthier, greener world.
If you would like to donate to ReStore, you may drop off items during our business hours:
Tuesday, Thursday, Saturday: 9:00am – 4:00pm
Wednesday, Friday: 12:00pm – 4:00pm
We are closed on Sundays, Mondays, and major holidays. Donation drop offs are not accepted during these times.
Mahalo nui loa for your support!