Basic Criteria Necessary to Become a Habitat Homeowner


Habitat homebuyers must meet the following qualifications:
1. Income
Homebuyers must meet Habitat's income guidelines and have a source of income to repay a no-interest mortgage. Families must be within the current Income Limits and not have excessive debt. Income can come from employment, disability, or social security or other source. The income of all working adults is counted towards eligibility.
2. Willingness to Partner
A. Sweat Equity Requirement
Families must help construct their homes and the homes of others – volunteer work known as "sweat equity" that develops construction skills and a sense of pride and ownership in their new home. We require around 50 hours of sweat equity per week for homeowners in the 'Ele'ele Iluna subdivision.  They may bring in other family members and friends to help them. Most Kaua'i Habitat families do not find it hard to fulfill this requirement.
B. Work with our volunteers and staff (team build)
Homeowner Candidates must be willing and accommodating to work as a team, alongside staff and volunteers. Kaua'i Habitat provides staff supervision and guidance, sub-contractors, and teams of volunteers to help the Homeowner build their house.
C. Help tell the Habitat story on Kaua'i
Habitat relies on many generous volunteers and donors to help Kaua'i families. Homeowner families are expected to help Kaua'i Habitat and future partner families by sharing the story of their journey.
THE PROCESS – 'Ele'ele Iluna Subdivision, Phase II
Mandatory 'Ele'ele Iluna Subdivision Orientation Meetings
Application period
Lottery randomization of applicants
Questions. Any questions about the process can be directed to Family Services Manager Catherine Shiningstar Ka'auwai. She may be reached at 335-0296 ext. 117.
GET READY!
Don't forget the importance of your credit. Review your credit history today!  Do you have a lot of debt? Habitat homebuyers must be credit-ready and credit-worthy. Trimming back your debt now will make you a better applicant when we are ready to take applications. You need to be able to qualify for a mortgage and have steady income in order to repay your loan. In addition, homeowners are required to complete a Homebuyer Education Course before beginning construction.
Homebuyer Education Courses. For a schedule of Homebuyer Education Courses, contact Hawaiian Community Assets directly by phone at (808) 587-7886 or Toll-Free (800) 476-4718.
Click here for more information on how you can get yourself ready to apply for the Habitat program.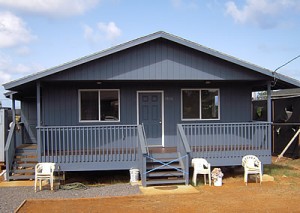 Sample schedule of a Kaua'i Habitat new home build:
Please note that the schedule below is approximate and subject to change. Home construction for one-off builds may take up to 11 months. Home construction in the 'Ele'ele Iluna subdivision has an estimated duration of 6-9 months.
Pre-Construction
√ Fill out paperwork w/ KHfH
√ Homebuyer Education Courses
√ Secure loan for fee simple land (if applicable)
√ Secure building permits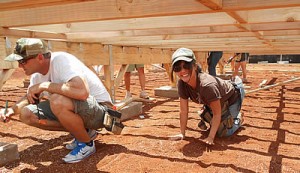 Construction, Months 1-4    
Initial and exterior construction
√ Groundbreaking (pouring footings/foundation)
√ Framing (raising walls)
√ Roofing (install trusses)
√ Siding installation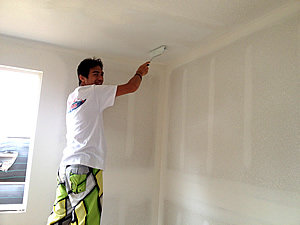 Construction, Months 5-6  
Interior construction
√ Drywall
√ Electrical and plumbing
√ Flooring
√ Painting (exterior and interior)
Construction, Months 7-8 
√ Finish work
√ Installation of windows, doors, cabinets, countertops, trim, baseboards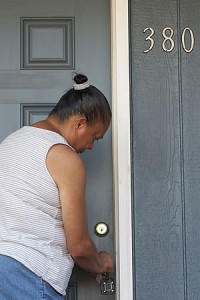 Post-Construction, Months 9-10
√ Final inspection
√ Habitat house dedication and key passing ceremony
√ MOVE IN!
OTHER OPPORTUNITIES:
Do you already have your own land and otherwise qualify according to our criteria?
Did you inherit a land lease and otherwise qualify?
Do you own a house now that needs extensive renovation and otherwise qualify?