How does affordable housing help people and communities?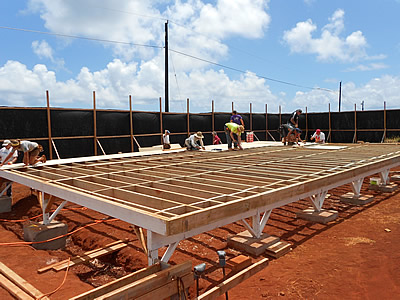 1. Neighborhoods where homeowners have a shared interest in improving their environment show reduced levels of crime over time. [1]
2. When a family's housing is improved through homeownership, improved physical health often follows.[2]
3. Well-constructed and well-maintained housing reduces exposure to lead paint, asbestos and allergens which can lead to asthma and other respiratory illnesses.[3]
4. A 2008 study by the University of Southern Indiana reported that Habitat partner families felt increased confidence in their own financial security after owning a Habitat home. Overall, families in the study reported that after owning a Habitat house they could now cover a large, unexpected bill or assist a relative who was having financial problems. These homeowners also recognized the importance of saving for the future.[6]
5. Reduces children's risk of infections and lessens the chances of suffering mental health and behavioral problems. [4]
6. Children tend to increase their educational attainment and have a greater likelihood of being successful and gainfully employed. [5]
The Situation: Kaua'i and State of Hawai'i
Highest Real Estate Prices in the Nation
A 2011 study of housing showed that the island of Kaua'i and the State of Hawai'i have the highest home prices and rental costs in the country, not to mention one of the most volatile markets. These conditions are brought on by facts that have long been known, but rarely laid out in such a way as to highlight the shocking and imminent need for affordable housing opportunities in our community.
In general, in Hawai'i:
– land costs are very high
– what little land is available, is not readily buildable and requires heavy investment in infrastructure development
– construction costs are among the highest in the nation
– our housing market is one of the most highly regulated in the U.S.
What's Affordable?
Housing affordability is generally defined as a housing cost that does not exceed 30% of a household's gross income, including taxes, insurance, and utilities. Housing costs, whether homeownership or rental unit, is considered unaffordable in excess of 30%. On Kaua'i, 41% of households are living in unaffordable housing situations, spending over 30% of their income toward monthly housing costs. Of these households, 27.8% are paying more than 40%.
Figure 1: Housing Cost as a Percentage of Income
With a shortage of buildable land, increasing cost of living, high energy costs, and an economy based on tourism, Kaua`i faces an ever-growing affordable housing crisis. In a 2010 study which measured Kaua'i's quality of life, researchers reported that in order to afford a median-priced home on Kaua'i, the annual income of a household must be at least $91,800.* (Measuring What Matters for Kauai 2010). For the many households on Kaua'i living at poverty level, making only about $9.83 per hour, home ownership is definitely not an option. But you can help change this picture.
Affordable homeownership is a life changing experience – for all.
To learn more about why Habitat is needed, click here.
Research and Resources:
Hawai'i real estate prices a burden (Feb. 2012 article – The Garden Island)
Link to Hawaii Housing study 2011
Habitat for Humanity Shelter Reports
---
[1] Von Hoffman, Alexander, Eric S. Belsky, and Kwan Lee, "The Impact of Housing on Community: A Review of Scholarly Theories and Empirical Research" (report for the Joint Center for Housing Studies of Harvard University: 2006), 59
[2] Lubell, Jeffrey, Framing the Issues: The Positive Impacts of Affordable Housing on Health, July 2007, 2 [3] Lubell, Jeffrey, (ibid.) [4] Harker, Lisa, Chance of a Lifetime: The Impacts of Bad Housing on Children's Lives, Shelter. September, 2006 [5] Harker, Lisa (ibid.)
[6
]
University of Southern Indiana, Habitat for Humanity of Evansville Impact Study, August 2008.