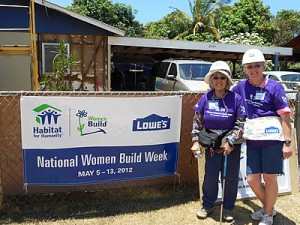 While our current focus is on the development and construction of homes in the `Ele`ele Iluna subdivision, we may have LIMITED opportunities in our Repair and Renovation Program. Please contact Catherine Shiningstar Ka`auwai for more information – (808) 335-0296 ext. 117.
Repair and Renovation Program Goals: 
To Repair and Renovate existing affordable housing units, so that families will continue to have a place to live.
Focus on housing that is deteriorating, due to old paint, decaying wood, old roofing and worn out materials.
Provide resources of construction management, volunteers and access to loan funds to make repairs.
To have a positive impact on and serve a larger number of families and improvement older neighborhood on Kaua`i.
Who can apply and qualify for this program:
Families or individuals that meet our regular Habitat requirements
Must have a combined family income that is less than or equal to 80% of Kaua`i County Median. Refer to the current income guidelines.
Must be credit worthy and have income and willingness to repay loan for the cost of repairs.
Must be willing to "Partner" with Habitat and help work on the repairs by putting in "Sweat Equity."
What repairs qualify for the Repair and Renovation Program:
Repairs to home that "need" to be performed to make house livable or safe or to prevent future deterioration of the house.
Includes but not limited to Termite treating a home, repainting a home for the purpose of protecting the siding or trim, replacing rotten wood, installing a new roof, replacing worn out plumbing,  rewiring electrical and in some cases replacing cabinets or flooring.
Renovations to make a home handicap accessible or to accommodate for overcrowding.
What will be included in the loan for the cost of repairs:
The total cost of materials for repairs.
Any contracted or direct supervision labor cost (such as Habitat construction staff while working on your project).
A charge of up to 10% of the total cost of the project will be applied to loan to help cover overhead cost. (This will cover only a small percentage of total overhead cost required for your project)
A discounted price will be charged for any materials that were donated directly to Habitat that are used on your project.
What is NOT included in Cost of repairs:
No profit will be charged on materials or labor.
Any Volunteer labor that is provided.
The majority of overhead cost incurred by Habitat.
No interest is charged on the loan "IF" Habitat has funds available for direct loan, otherwise we will work to find funding at the best rate for homeowner, such as USDA or DHHL loans which are low or no interest to families.
What does NOT qualify:
Homes that are not owned by applying families.
Repairs made for cosmetic purposes, such as repainting a home because the colors are not wanted, changing cabinets, floors, house layout, etc.
No profit will be made on materials or labor.