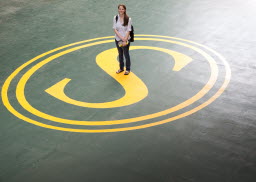 By Teresa K. Weaver, HFHI editorial director
Mary Zar lived her first few years in survivor mode. Her earliest memories are of rats coming in through gaping holes in the walls and floors and creeping around her family's house.
"I remember them crawling very close to my bed," Zar said.
Zar was 4 when her family moved out of that ramshackle shotgun rental and into their own affordable home, built in partnership with East St. Tammany Habitat for Human-ity in Slidell, Louisiana.  Now 22, she still shudders at the thought of rodents. And her recollection of what it felt like to move into a decent home — a few weeks before Christmas 1994 — is as vivid as the day it happened. "It was a big step for my family, to have a new house that was safe," Zar said. "The memory is still very clear about what that felt like, to be in my own room by myself. No rats, no holes in the walls, no siblings walking through my room. "It was a good feeling."
Even before she was mature enough to articulate it, Zar knew that a safe place to live was a starting point. Once she was in a healthy, positive environment, she could shift out of survivor mode and start envisioning a real future.  This fall, Zar will be a senior at Southeastern Louisiana University in Hammond. She's majoring in criminal justice, with a minor in psychology, and plans to go to law school. "I'd like to be a prosecutor for the state," she said. "I just really want to help people."
Zar was the first person in her family to graduate from high school. Life circumstances had forced both her parents to drop out before fifth grade, and none of her three older siblings had earned a diploma. "I love my parents to death," Zar said. "But the concept of education was foreign to them. It took other people to show me how important education would be to achieving my dreams."
The volunteers who helped build the Zar family's Habitat house were the first to see the potential in the timid little girl. Kathy Bass, an accountant in Slidell, kept the books for East St. Tammany Habitat, then a young nonprofit agency staffed entirely by volunteers. Every Saturday, Bass went to help out at the build site, where she got to know Warren and Patricia Zar and their three children: Jason, 14; Warren Jr., 10; and Mary, 4. (The oldest daughter, Brenda, 19, already lived on her own.)  "Mary was very shy," Bass said. "She was our first small child in a Habitat house. I had actually walked through — and videotaped — the family's old residence, so it was real to me the difference this house would make in her life."
'Life has no remote'
The family's living conditions improved dramatically in the new house, but there were other obstacles to overcome. From first grade on, Mary struggled in school, where the stigma of being poor made her the target of schoolyard taunts. "Mary's life in the public school system was harsh," Bass recalled. "It's not easy to be poor. In poverty, everything about you spells 'poor,' from your $2 Goodwill tennis shoes to your used book bag." Even two decades later, those days are difficult for Zar to relive. "Kids would call me poor and skinny and freckle-face," she said quietly. "It was just kids being mean, but it hurt a lot. And it definitely made me not want to be at school." When Zar was on the verge of failing fifth grade, Bass spoke with Zar's mother and suggested that the child might do better at First Baptist Christian School. Bass even paid for Zar's first year of tuition. After the girl made good grades, she was granted a full scholarship for the rest of her time there.
Over the years, Bass became "Aunt Kathy" and took on more and more of a mentoring role. Now, Zar's two younger siblings, 14-year-old twins Theresa and Johnny, live with Bass, and attend the same Christian school. Bass likes to quote from Stephen R. Covey's "The 7 Habits of Highly Effective People," which teaches the importance of giving "wings" to children — empowering them to rise above their circumstances and break negative patterns. He uses the term "transition person" to describe someone who serves as a link between the past and the future. "Mary has become a transition person in her family," Bass said, "through the 'wings' given to her by Habitat for Humanity."
Jim Thomas, a longtime supporter of East St. Tammany Habitat who now serves on the land and construction committee, also took on an extraordinary mentor role with Mary — and now, with her younger siblings as well. "To see Mary blossom and grow … I am in awe every day," he said. "She has proven that it can be done — and done with an eye to help others do the same thing. "I am most proud that she has accepted that life has no remote, so she has to get up and change it," he said. "She knows that; she lives it; she understands what the opportunities are and how to take advantage and change her life."
Inspiration from tragedy
Zar has dreamed of being a lawyer since she was very young. Her interest was spurred by tragedy: Zar's mother, Patricia, was 8 when a drunk driver plowed into the family's car, killing her sister and cousin, and leaving Patricia with traumatic brain injuries that have made her life difficult. "Her experience inspired me to go to law school and to make sure people pay for the damage they cause," Zar said.
When Zar was in 10th grade, she met Slidell City Judge Jim Lamz after a fundraising event for Habitat. Zar had spoken to an audience about what the house had meant to her family, and it had struck a chord with Lamz.
"I heard her story, and it was almost identical to my story," he said. "After the event, I introduced myself and told her that just like her, I was the first person in my family to graduate from high school. I found out she was interested in law, so I told her, 'When you're ready, I have a job for you.' " Zar now works 24 hours a week at the courthouse as a paid intern. She helps with filing, closing out dockets, making phone calls and running background checks, all while absorbing every-thing she can about working in the legal field. "She's a wonderful employee and a wonderful person," Lamz said. "She deserves everything, because she works so hard. She's punctual, she's reliable, she's pleasant, she's hard-working — she has all the great qualities."
As a city judge, Lamz sees a relentless stream of troubled kids come through his court. For many of them, he said, simply being born into poverty is the most daunting obstacle they face. "These children didn't choose to be born into a particular environment," Lamz said. "And most of the time they're overwhelmed. They have feelings of helplessness. We try to give them something — a hand up or a light to swim toward."
Zar gives a lot of credit to trusted mentors — Lamz included — for keeping her on the right path. She says it's her responsibility to keep paying that forward. In April, Zar went to Slidell's Salmen High School to award the first Mary Zar East St. Tammany Habitat for Humanity Scholarship to Tredon Peterson, a scholar and basketball player. "It was a moment I will never forget," Zar said after presenting the scholarship to Peterson at an assembly in the cavernous gymnasium. "Education truly is the key to life. Educate yourself, and you have no limits to what you can achieve."
Zar and her boyfriend recently became homeowners. "We've worked really hard and saved money instead of blowing it on stupid stuff," Zar said. "Homeownership means the world to us. We've moved so many times over the past few years, from one apartment to another. Now we can relax and focus on what we want our future to be."
'If it helps one more kid …'
Zar says her future would have been bleak without Habitat. "I would not have finished high school," she said. "I was the first female in my family who wasn't pregnant by the time she was 15. Habitat gave me a stable place to live. As a kid, that's your biggest fear — not having a place to go home to. "Once I had that, everything else could change." Zar is a frequent guest speaker at Habitat events and fundraisers. Debbie Crouch, executive director at East St. Tam-many Habitat, calls Zar "my hero." "It's not easy to be a kid and talk about being poor," Crouch said. "But Mary is special — she always has been. There is nothing more powerful than hearing her share her story in her own words."
Zar also volunteers at the Slidell Soup Kitchen from time to time. But most of her non-study time is spent being an advocate for affordable housing. "Public speaking still scares the hell out of me, to be honest," she said. "But if it helps get one more home built for one more kid who needs it, it's worth it."
INTERNATIONAL HEADQUARTERS: 121 Habitat St. Americus, GA 31709-3498 USA 229-924-6935 800-HABITAT habitat.org
Photo 1: Mary Zar, 22, moved into a Habitat for Humanity house in East St. Tammany Parish, Louisi-ana, when she was only 4. Now a junior at Southeastern Louisiana University in Hammond, Zar has aspirations of going on to law school and becoming a criminal prosecutor. Habitat for Humanity International /Ezra Millstein