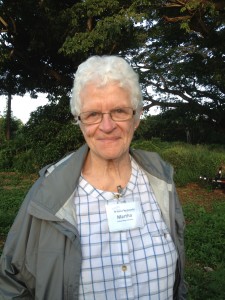 After a #globalvillage team completes their #Habitat homebuilding project and prepares to head home, we hold a Mahalo Celebration to show our gratitude for all the work they have done on their visit. It's never anything big, just a little informal get together where we can say mahalo, and they get the opportunity to hear family stories from the recipients of their hard work. This is an excerpt from an email that we received from Martha, one of the team members, after she had returned home.
"…would you please tell the families we met at the lovely Mahalo [Celebration] last week how much their gifts and stories meant to all of us. I'm going to frame the postcards and hang them by my desk here at home, to keep them and all of you in my thoughts and best wishes each day."
Our Volunteer Coordinator Jessica shared this with the families that participated, just to let them know how their small gesture of sharing stories and sending #volunteers off with a small gift made a significant impact in someone's life. In the spirit of sharing, I also wanted to pass her story on. So everyone can see how little it takes to make a big impact to someone else.