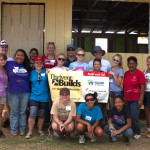 We've had a great 2 days with 25 youth and youth group leaders from Kihei Lutheran Church and Lihue Lutheran Church.
Yesterday on Day 1, part of the crew worked at ReStore while another group painted the exterior of the Beniamina home in Kekaha. On Day 2 the crew continued work at the ReStore and joined the rest of the group in `Ele`ele at our volunteer house for more exterior painting. But they're not done yet — they're headed to Koke`e to clear some trails!
With an enthusiastic and passionate group like these young women and men, the future is bound to be a bright one.
Thanks to all the youth and leaders who came to help with our mission of affordable housing. Special thanks to Habitat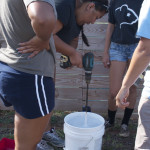 Board Member Pastor Paul Kirchner, Pastor Dave Krueger from Kihei, Habitat Board Member Peter Wiederoder, and the entire committee for coordinating this project, enabling a grant from Thrivent Builds, and bringing together a great group of kids!