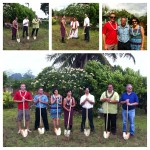 The start of a new journey for Debbie and Elvis Fitzgerald-Troche.
Creative minds and a generous donation from the Toulon family helped to bring them and the Fitzgerald-Troche `ohana together with Kaua`i Habitat. When the Toulon Family (Eric, Jeanne, Tiare, and Justin) weighed their options about what to do with a 2nd home they maintained as a rental property, the choice was clear – Habitat for Humanity.
Moved by Eric and Justin's experience building in Louisiana with a Habitat for Humanity affiliate, the entire family came to the conclusion that donating their 3-bedroom 2-bath rental home was the right thing to do. They contacted Kaua`i Habitat for Humanity thinking that this gift may help with the `Ele`ele Iluna project. However, timing was just right for the contribution to be used as a new home for the Fitzgerald-Troche family who lost their home on Hawaiian Homelands to a devastating fire almost two years ago. As part of the Toulon family's contribution, the home (originally constructed in 2006) will be moved from its current site over to the Anahola lot by Mike Faye of Kikiaola Construction.
Debbie and Elvis have already been hard at work at Kaua`i Habitat's ReStore, racking up approximately 300 sweat equity hours toward their building agreement with the affiliate. Work will soon begin on-site at their Anahola lot to prepare for the moving of the house. The couple is excited, nervous, and so very thankful for the opportunity to become Habitat homeowners.
The generosity of Eric, Jeanne, Tiare, and Justin Toulon is certainly appreciated and serves as an inspiration to us all. Mahalo nui from all of us at Kauai Habitat!
Special Mahalo to Mayor Carvalho, Eric, Jeanne, Tiare, and Justin Toulon, KHFH Vice Pres Peter Wiederoder, Kahu Mokihana, Sandra Bafia, Bob McNamara, Catherine Kaauwai, Don and Verne for sharing in this special occasion for the Fitzgerald-Troche family.