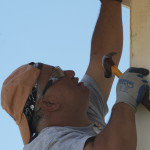 We are proud to announce Joe Naka`ahiki as the Volunteer Spotlight Award winner for the month of May!
Joe was selected for going above and beyond in his efforts to support the Habitat mission.
Recently, Kaua`i Habitat completed renovation work on the Naka`ahiki home in Kekaha. Joe has chosen to continue to serve as a volunteer and an advocate! He will be back on the job site as often as he is able to assist and mentor other new Habitat homeowners and volunteers as they progress through the various stages of construction. Joe is also helping the affiliate reach out to the Hawaiian speaking community by spreading the word about Habitat's home repair and renovation program and sharing his family's successful experience.
Mahalo and congratulations Joe!