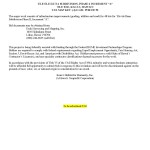 NOTICE TO CONTRACTORS
SEALED BIDS will be received at Esaki Surveying and Mapping, Inc.; 1610 Haleukana Street; Lihue, Kaua`i, Hawai`i; 96766, no later than June 20, 2013 at 2:00pm for the construction of:
`ELE`ELE ILUNA SUBDIVISION, PHASE 2 INCREMENT "A"
`ELE`ELE, KAUA`I, HAWAI`I
TAX MAP KEY: (4) 2-1-01: POR OF 52
The major work consists of infrastructure improvements (grading, utilities and road) for 48 lots for `Ele`ele Iluna Subdivision Phase II, Increment "A".
Bid documents may be obtained from:
Esaki Surveying and Mapping, Inc.
1610 Haleukana Street
Lihue, Hawai`i 96766
(808) 246-0625 (call first)
This project is being federally assisted with funding through the Federal HOME Investment Partnerships Program. Bidders are required to comply with federal requirements regarding Equal Employment Opportunity, Fair Housing Act, Section 3, Davis-Bacon Act, and American with Disabilities Act. Bidders must possess a valid State of Hawai`i Contractor's License(s), and any specialty contractor classifications deemed necessary for the work.
In accordance with the provisions of Title VI of the Civil Rights Act of 1964, minority and women business enterprises will be afforded full opportunity to submit bids in response to this invitation and will not be discriminated against on the grounds of race, color, sex or national origin in consideration for an award.
Kaua`i Habitat for Humanity, Inc.
(A Hawai`i Nonprofit Corporation)
(TGI524162 5/30/13)
Location:1610 Haleukana Street