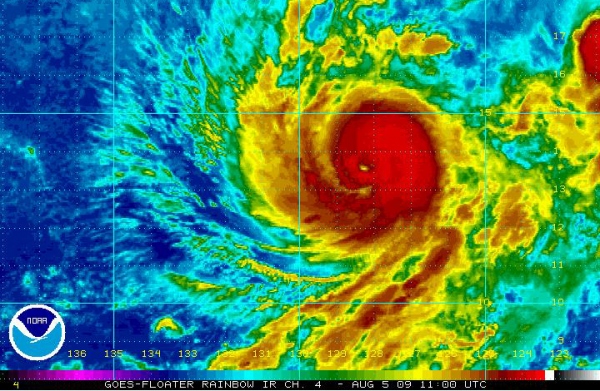 Hurricane season runs from June-November in Hawaii. Hurricanes are tropical cyclones with sustained winds of 74 miles per hour or greater, and can exceed 155 miles per hour, severely effecting areas hundreds of miles inland. When Civil Defense officials issue a Hurricane Watch, a hurricane is possible within 48 hours. When a Hurricane Warning is issued, a hurricane is expected within 36 hours. In either case, stay tuned for additional advisories and if advised to evacuate, do so immediately.
To prepare your household, be sure to have your survival kit replenished and ready before summer begins. Check that you have all necessary items and tools that you'll need to secure your home in the event of hurricane-force winds.
Suggested supplies:
Portable radio, extra batteries, flashlights, battery powered lanterns, matches, first aid kit, medications, ice chest, containers of water (min. 2 quarts per person per day), 5-day non-perishable food supply, sleeping bags, blankets, toiletries, sanitary items, extra clothing, fuel for stoves, grills, lanterns, masking tape for windows and glass doors, extra pet food.
Need to replenish your emergency supplies and preparedness kits hurricane season?
Check out discounted products for Kauai United Way supporters (promo code KauaiUW) through Family Storehouse.  To make this deal even better, Family Storehouse will donate $10 to Kauai United Way (Kauai Habitat is a partner agency) for each 72-hour kit sold.
Visit County of Kaua`i's Civil Defense website for more information on hurricane preparedness procedures and what to do during and after a hurricane."