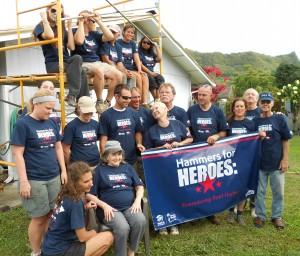 On December 10, 2011, Kaua'i Habitat began its first project in this new program – a roof repair for Marine veteran
JQ Smith – funded through Lowe's "Hammers for Heroes" in remembrance of Pearl Harbor.
Mahalo to the hard-working volunteers who came out that day to begin the much-needed roof repair work. Special thanks also goes out to our Repair and Renovation Funding Partners who have made this entire program possible: Office of Hawaiian Affairs, Omidyar Ohana Fund, Atherton Family Foundation, Lowe's, and Home Depot.
The goal of our program is to repair and renovate existing affordable housing units using our self-help model, so that families will continue to have a place to live. We'll be doing more Repair and Renovation work in the weeks and months to come. Be sure to check back with us for future updates.